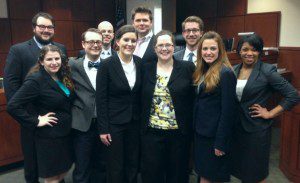 Two trial advocacy teams from Belmont University College of Law competed in the Louisville, Kent., regional of the 2014 American Association for Justice (AAJ) Student Trial Advocacy Competition. Both teams went undefeated until they met each other in the championship round.  The team of Emily Cole, Dayne Geyer, Robert Martin and Patrick Ober narrowly bested Ardath Griffin, Rachel Hogan, Ron Laffitte and Sara Page to win the regional.
Director of Advocacy and Associate Professor of Law Amy Moore said, "The College of Law is extremely proud of both of these teams' performances. The championship team won every single round; in fact, of the multiple judges hearing each round, our championship team won over every single judge — not one judge voted for the opposing team! Our mock trial students have put in so much time and effort, and this weekend they were able to showcase their skills and the Belmont College of Law. No one could believe that this was only our second year with an advocacy program at such a new law school. These students are what Belmont Law is all about."
Advocacy teams competing in the Kentucky regional hailed from law schools at Indiana University, the University of Arkansas, the University of Illinois, the University of Mississippi, the University of Missouri, the University of Tennessee and Washington University in St. Louis.
Belmont's trial advocacy teams were coached by Middle Tennessee attorneys Margaret Garner and Andrew Caple-Shaw. In a few weeks, the championship team will travel to Santa Monica, Cali., to compete in the National Tournament against 13 other mock trial teams from across the nation.