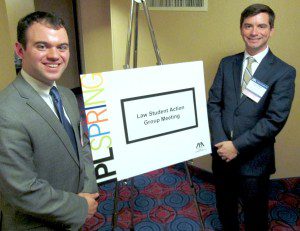 The American Bar Association (ABA) selected two Belmont University College of Law students to attend the 29th Annual Intellectual Property Law Conference in Washington, D.C. from April 2 through 4.
Phillip Turner, class of 2016, was one of 12 law students selected from ABA-accredited schools to manage all of the social media and blog coverage for the three-day conference.  The ABA's Law Student Reporters Program allows law students to attend over 30 continuing legal education (CLE) and keynote events in order to live tweet, blog and engage with attorneys.  The 29th Annual conference featured high-profile speakers and panels covering a wide-variety of intellectual property law topics, including patents, trademarks, copyrights, trade secrets and international law.
Franklin Graves, class of 2014, attended the conference last year as a law student reporter and returned to the conference as the newly appointed chairman of the Communications Subcommittee for the ABA's Section of Intellectual Property Law.
Graves and Turner are members of the Law Student Action Group, which is designed to connect law students with attorneys from around the world to work on ABA projects, writing and drafting assignments and online CLEs. Read more at the Law Student Reporters Program blog.