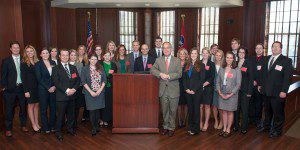 The Belmont Law Review held a symposium titled "Health Care in the Balance: Weighing Competing Interests in Health Care Law" on Fri., Oct. 17. The Law Review staff assembled a strong lineup of presenters featuring the following special guests:
Lorri Unumb, a former law professor who is now the vice president of state government affairs at Autism Speaks, presented on "Legislating Autism Coverage: The Conservative Insurance Mandate."
Professor John D. Blum, who holds the John J. Waldron Research Professor Chair at the Loyola University Chicago School of Law, addressed "Compelling Interests, Hobby Lobby and Population Health."
Congressman Jim Cooper, the United States Representative for Tennessee's 5th Congressional district, offered a health care policy focused address.
Belmont Professor Amy Moore explored "The Due Process Conundrum: Using Matthews v. Eldridge as a Standard for Private Hospitals under the Healthcare Quality Improvement Act."
Gary Montle, an attorney with the law firm of Waddey Patterson, presented "Our Patent System and Healthcare Information Technology: Valuable Incentive or Impediment to Innovation?"
Professor Joshua Perry of Indiana University's Kelley School of Business discussed "For Patients and Profits: The Business of Dialysis & the Necessity of Ethical Astuteness."
Members of the bench and bar were invited to the event, and the Law Review provided lunch and Continuing Legal Education (CLE) credit to attendees.