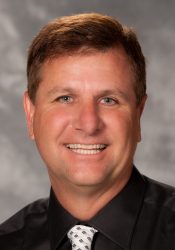 The Greater Nashville affiliate of Susan G. Komen has recognized Physical Therapy Professor Mike Voight as a Pink Tie Guy during a celebration dinner that honored a 10 individuals from Middle Tennessee.
The Pink Tie Program features influential leaders who help mobilize, energize and engage audiences in the breast cancer movement through their role within the community, within their organizations and through their personal involvement.  Pink Tie Guys bring a male voice to the urgency of finding a cure for breast cancer.
"Mike is the perfect Pink Tie Guy," said Dr. Cathy Taylor, dean of the College of Health Sciences.  "His positive energy is contagious, and he has worked tirelessly to mobilize others to race for the cure. We are so proud of his accomplishments and appreciate our Komen partners for rewarding his work in this way."
Voight is the force behind Belmont's annual participation in the local Susan G. Komen Race for the Cure.  Each year, over 100 students and alumni from the School of Physical Therapy volunteer to provide the main logistical support for the race.  Komen International recognized Belmont University and the School of Physical Therapy last summer as the Volunteer Group of the Year for their service.