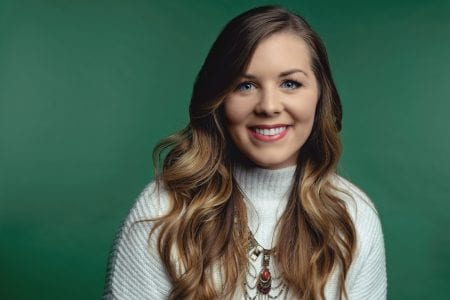 Belmont University student Hannah Kerr is no stranger to taking big stages. Having previously toured in 2016, she has already shared the stage with Christian artists such as Casting Crowns, For King & Country and Newsboys. With the holiday season approaching, Kerr will have the opportunity to take the stage again as she opens for Casting Crowns on their "It's Finally Christmas Tour."
Kerr recently released her new Christmas LP "Christmas Eve in Bethlehem" on October 19. The album features 10 songs and two originals co-written by Kerr. The album was produced by Mark Miller who produces for Casting Crowns and has produced Kerr in the past.
Kerr is a Christian Leadership major at Belmont and plans to graduate in May 2019. She has long had an interest in singing but never wanted that to be her main focus. Through coming to Belmont, Kerr has been able to deepen her faith and continue to grow spiritually and educationally while continuing to develop as a songwriter and performer.
The chance to be a student and study theology under the professors at Belmont has helped Kerr advance her understanding of the Lord and her faith. Beyond that, Kerr feels as though she has grown as a musician as a result of her study of Christianity and faith. "My songwriting has specifically improved because I feel like I can go deeper and own my faith in a new way," Kerr said. "This is mostly a result of the soul work my classes have offered me."
Throughout her time at Belmont, Kerr has been influenced by friends and faculty, including adviser and professor, Dr. Steve Guthrie. "He has been so supportive of me throughout my time at Belmont and encouraged me to keep pressing on even when it was difficult to handle school and music at the same time," Kerr said. For a project in one of Guthrie's classes, Kerr wrote a song titled "Glimpse," which went on to become her most recent radio single.
Being a musician and a full-time student has not always been easy for Kerr. She said one of the most challenging parts has been traveling and doing classes full time, but her professors have always supported her and have enabled to her to do both. "My time at Belmont and my time as a musician have mutually benefited from each other because I have grown spiritually to deepen what I do on the road and also gained valuable experience while traveling that affects my learning and understanding in class," Kerr commented. "This time in my life has been crazy, but so rewarding and so worth it."