On Feb. 13, Belmont's Edward C. Kennedy Center for Business Ethics sponsored a chapel convocation and lunch with Nathan Sheets, CEO and founder of Nature Nate's Natural Honey. Nature Nate's is America's largest branded honey company and values caring for its employees, the environment and supporting homeless and Christian ministries.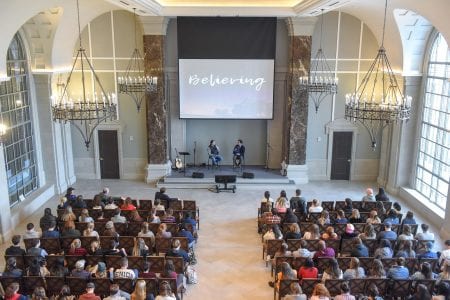 Sheets shared he has taken over 100 mission trips. After shifting from full-time ministry to Nature Nate's, he has found the values and principles transfer completely. He said intentionality for the kingdom is most important.
Before Nature Nate's, Sheets was one of the driving forces behind the global "I Am Second" media campaign that highlights stories of hundreds of lives transformed through Christian faith.
He said in 1996, he and his wife were watching television trying to decide on a new hobby to start together and saw a commercial featuring a woman in a beekeeping suit. Sheets' commitment to the honey business began with one hive in his parents' backyard to now 130 staff and 18 million pounds of honey bottled and distributed this past year.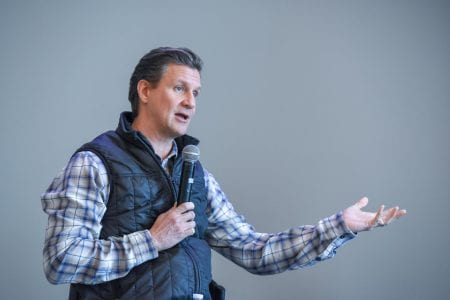 Sheets shared many ways he leads his staff according to ethical principles, including the Bee Attitudes, a representation of values the company holds most important. These values were inspired by the biblical Beatitudes, eight blessings recounted by Jesus in the book of Matthew, and include being generous, loving, honest, faithful, passionate and creative.
To create a culture of accountability, Sheets offers financial management classes to elevate people out of poverty, encourages philanthropy and participates in initiatives such as turning the honey labels pink for National Breast Cancer Awareness Month.
One of the key initiatives Sheets shared was the story of Bonton Honey, a honey company in the disadvantaged neighborhood of Bonton, South Dallas, Texas. Bonton Honey began with seven men in hopeless situations who needed work. Sheets told them if they put in the effort and they all put in the time, he would put in the money and eventually give the company to those who stuck with it.
Two months ago, Sheets legally gave Bonton Honey to Clifton Reese, one of the original seven men who started the company with Sheets. Sheets said the other men who started with him were given the opportunity to dream and have a vision for their lives through Bonton Honey, which led to other endeavors.
Bonton Honey will soon launch a beekeeping program for young boys in Bonton to give them that vision, as well.
Sheets concluded by saying he sees himself as the Steward and President of Nature Nate's and believes God is the CEO. He said he will continue to seek ways to share God with his customers, employees and the world.