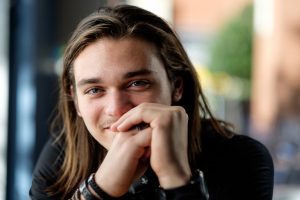 As part of the community service aspect of his E.S. Rose Scholarship, freshman entrepreneurship major Isaiah Kearney has spent the semester volunteering at the W. O. Smith School of Music as a guitar teacher for beginners. So far, Kearney has been helping one student learn the fundamentals of music and develop a passion for playing instruments.
"It is extremely rewarding for me when my student shows up every week excited to show me what she practiced because it means that she is enjoying music," Kearney said. "That, to me, is the most important thing that a young musician can learn."
Kearney was inspired to spend his time volunteering at the W. O. Smith Music School by his father, Chris Kearney, who was a volunteer drum instructor at the school when Isaiah was an infant.
"I was eager to continue in some of the good work he was doing with W.O. Smith," Isaiah said of his father. "My time so far has definitely been a growing experience because, though I don't compare myself to him, my hope is that I can instill the same eagerness to learn that he gave to me and all of his students in mine."
The E.S. Rose Scholarship was established in 2007 to honor the memory of Reverend E. S. Rose, a religious and Nashville community activist who served as pastor of Greater Bethel African Methodist Episcopal Church (founded in 1866) from 1928-1944. Each year, the university awards full and (when funds allow) half-tuition scholarships to students distinguished by their record of academic achievement and recognition from educational leaders. As part of the scholarship, recipients are required to volunteer at the location of their choosing in the Rose Park or Edgehill area.