Junior music business major Kaylee Rutland has made it halfway through the Nash Next Country Competition after being on the top of the leader board for the first three rounds. The competition, aiming to discover new talent in country music, began in June and consists of an audition and six challenges.
Hundreds of contestants were narrowed down during the audition period, and the challenges began in August with the top 100 contestants. Voting for each challenge takes place online and by a panel of celebrity judges. The bottom 15 contestants are eliminated after each challenge through Challenge Five, when 30 will be eliminated. The top 10 finalists will be announced on October 26, who will then participate in a final challenge to determine the grand prize winner of a recording contract. The Top 10 will also participate in a concert tour in 2016.
Rutland passed through the first three challenges in the top five, and is currently in the running for the fourth round. "Achieving the top 10 would be a dream come true, and my main focus right now is being as creative and unique as possible," she said.
The first challenge was to select one of three cover songs and create a music video. Rutland chose "How Country Feels" by Randy Houser. The second challenge was to create a jingle for the Nash brand – leaving off the last 5 words – and having fans suggest the last line on Twitter. The third challenge was a live Periscope performance of either a Justin Bieber or Ariana Grande song, and Scooter Braun was a guest judge. Rutland chose "Somebody to Love" by Justin Bieber. These challenge performances can be found on her NashNext page. Rutland used the Belmont campus to film a short Instagram video for her fourth challenge entry, which will be posted on the Nash Next site and her personal Instagram account by October 7.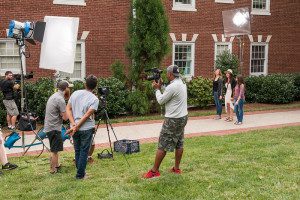 Rutland said she decided to join the competition because of the many great experiences and opportunities that go along with it. "There's the potential to be exposed to and reach so many new country music fans! The challenges encourage us to be creative on many levels; sometimes you really have to stretch yourself. I'm also very excited about working with other artists and having an opportunity to go on tour next year. I especially love that's it's exclusive to country music artists," she said.
Belmont can follow along by going to NashNextCountry.com. "It would help me tremendously if you'd become a fan on my page, listen to my songs, watch my videos and vote at the end of each challenge! There is a lot of focus on social media with this competition so I will have a lot of updates and teasers on my Facebook, Twitter and Instagram."