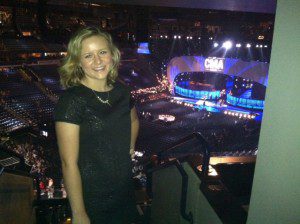 Kelly Brickey, Belmont junior and journalism major, was recently named CMA's Close Up Award of Merit in journalism recipient, in recognition of her work for CMA Close Up magazine during this summer's CMA Fest.
Throughout CMA's week of festivities, Brickey was assigned events to cover including Big & Rich's opening show, performances at LP Field and a story on the Budweiser Clydesdales. Brickey says the experience was very valuable for her future career, as she was able to learn how to get the right information in a short period of time and turn the story around on an even shorter deadline.
Brickey said receiving the award was unexpected, as the team of journalists she was working alongside was very talented. "I was honored to be a part of an amazing team this year; every one of the other journalists alongside me were brilliant and so innovative," she said.
Being at Belmont has been a large contributor to her success, Brickey noted. "Being a journalism student at Belmont has completely changed me… I have learned more than I ever thought I could from our media department. They have not only taught me the skills and academics I need to be a successful journalist, but also how to form my own voice and develop the real-life tactics it takes to be a journalist."