Former cross country student athlete Courtney Hicks, a 2003 journalism graduate, and her husband Brian are running a different kind of race this week, as they sprint to the finish for the grand opening Saturday of their social enterprise, Humphreys Street Coffee and Soap. The nonprofit has been in existence for several years, but this weekend Humphreys Street will open its first retail location, a coffee shop located in an old church in the Wedgewood-Houston neighborhood.
Hicks said, "Back in 2007, my husband Brian and I co-founded a local nonprofit called Harvest Hands Community Development Corporation, serving children, youth and families in South Nashville by focusing on healthy living, education, spiritual formation and economic development. We also co-founded the social enterprise, Humphreys Street Coffee and Soap, in 2008, out of Harvest Hands CDC. Humphreys Street exists to mentor, employ and empower youth living in South Nashville through roasting specialty coffee and crafting handmade soap products."
The Humphreys Street enterprise has received significant attention for the work it does employing high school students from low-income South Nashville neighborhoods and reinvesting its profits into scholarships to support those students, all while mentoring the young people along the way. A number of local media outlets have helped spread the good news of the nonprofit's work, including coverage in the Tennessean, the Nashville Business Journal, the Nashville Scene and, most recently, NewsChannel 5's "Talk of the Town."
In the segment, Brian Hicks said, "If you looked at juvenile crime, and if you looked at what's happening in our community and around the city, kids were getting into trouble between 2-6 p.m. just because they had nothing to do. It's trying to create opportunities for students and help them become who they can be… We don't hire students to roast coffee and make soap, we roast coffee and make soap to hire students. We actually believe it can save lives, that a kid working in a job in a positive place with positive mentors can save lives."
While her husband serves as the executive director of Harvest Hands/Humphreys Street, Hicks started her own company, CEH Creative, in 2017 after 15 years in marketing and development to give herself the opportunity to "…serve multiple nonprofits and small businesses with their marketing and development needs on a contractual basis.  I go by the title of Founder and Creative Strategist."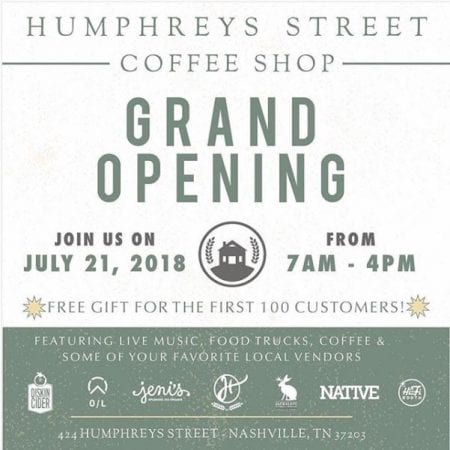 Beyond her involvement with the nonprofit, her own entrepreneurial efforts and managing several rental properties the couple owns, Hicks is also working on a children's book, "Brooklyn & Bailey," based on tales of her daughter Brooklyn and the family dog, Bailey. "I am self-publishing and will be for sale hopefully by the end of the year!  My goal is to write several more stories and turn 'Brooklyn & Bailey' into a children's book series."
With everything she's doing, Hicks is quick to recall the impact her Belmont experience made on her life and career, noting how she learned two valuable lessons: to push past the pain, a cross country team motto, and happiness is a choice. "I had a hard season at Belmont my junior year, even seriously considered transferring, but I had the revelation that it was my choice to either stick it out and be happy or make a big change. I chose happiness, and I'm so glad I did."
Moreover, the faculty she encountered along the way transformed how she saw the world and her faith, particularly recently retired religion professor Dr. Ben Curtis. "Dr. Curtis changed my life forever. I grew up going to a Christian school and to church every Wednesday and Sunday. I never experienced or understood grace until I experienced Dr. Curtis' classes, specifically Spiritual Formation. His presence, his care, his ability to be present with his students was / is life giving, and in my case, life changing. I now know and share the grace of Jesus because of Dr. Curtis and his impact on my life."
Humphreys Street Coffee Shop is scheduled to have its grand opening tomorrow, July 21, at 424 Humphreys Street. Visit humphreysstreet.com and harvesthandscdc.com to learn more.