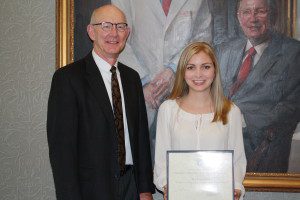 Fourth-year student Mary-Martin Johnson, of Tuscaloosa, Ala., received the United States Public Health Service Excellence in Public Health Pharmacy Practice Award at a ceremony in April.  Johnson was presented the award by Dr. Chris Lamer, a clinical informaticist with the Indian Health Service.
The U.S. Public Health Service created the program to encourage student pharmacists to become active in public health issues.  The annual award recognizes student pharmacists who have demonstrated a commitment to public health and public health practice across America.
Johnson was recognized for her work in the American Pharmaceutical Association-Academy of Student Pharmacists (APhA-ASP) chapter within Belmont's College of Pharmacy.  She has served as operation heart chairwoman and patient care coordinator for the organization. Through her efforts sustainable contributions to organizations such as the Barren Plains Hispanic Ministry have been initiated in the last few years. The APhA-ASP chapter has provided migrant workers free blood glucose and blood pressure screenings as well as patient education regarding diabetes and hypertension. In addition, the APhA-ASP chapter provided influenza immunizations to the migrant workers. Additionally, as service chairwoman within the Class of 2015, she has worked with The Little Pantry That Could.  The nonprofit organization that provides food and healthcare services to the homeless population in west Nashville.  Without a doubt, Johnson embodies the mission of the United States Public Health Service.  Through her efforts as a student pharmacist, numerous lives have been changed.