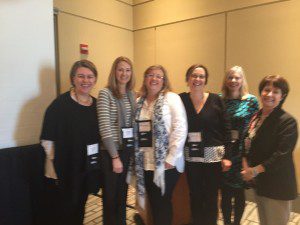 In 2014, Associate Dean of the College of Liberal Arts and Social Sciences Dr. Lauren Lunsford, Director of Clinical Practice Kate McGowan, Associate Professor of English Dr. Bonnie Smith Whitehouse, Professor and Chair of the Department of Biology Dr. Darlene Panvini, Professor and Associate Dean of the College of Sciences and Mathematics Dr. Kim Daus and Associate Professor of the Education Department Dr. Sally Barton-Arwood were awarded an Improving Teacher Quality grant from the Tennessee Higher Education Commission as part of the federal Race to the Top initiative.
As part of the grant, these faculty members developed a summer workshop entitled "Food and Gardening:  Growing Partnerships between Science Teachers and English Teachers to Support Instruction of the 6-12 Reading Literature and Informational Text Common Core Standards" for area teachers. In planning the workshop, STEM, English and Education faculty worked collaboratively to read, review state and national educational standards, plan lessons and assess best practices for learning and teaching.
The entire team presented on their research, workshops and innovative ongoing collaboration at the National Science Teachers Association in Chicago on March 12.
For 2015, the team, now including Associate Professor of Math and Education Dr. Ryan Fox was awarded a second grant and will be presenting another series of workshops this summer. The friendship and research yielded by their ongoing work exemplifies Belmont's commitment to interdisciplinary collaboration and community partnerships.