Each year the Belmont Honors Program selects three outstanding students to attend the Christian Scholars' Conference (CSC) and participate in a session with other Honors college students. This year the CSC theme was "Justice: Meaning and Practice," and the students' session was titled "Meeting Needs in Community Health Care through Service, Mission, and Volunteerism." Belmont was represented by Honors Nursing students Rebecca Hall (senior from Bon Aqua, TN), Emily Tomsovic (sophomore from Edwards, IL), and Julia Sherwood (senior from Brookline, NH). The mission of the Christian Scholars' Conference is to create and nurture an intellectual and Christian community that joins individuals and institutions to stimulate networks of scholarly dialogue and collaboration. The conference was created under the direction of Pepperdine University Distinguished Professor Emeritus Dr. Thomas H. Olbricht and has been hosted by several faith-based universities. The conference calls together scholars from a wide variety of disciplines in the liberal arts, sciences, business, law, education and medicine to develop their own academic research and to reflect on the integration of scholarship and faith.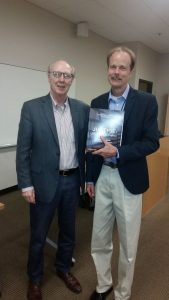 Honors students each presented original essays on how their experience at a Christian university like Belmont informed their decisions to pursue a career in nursing, medicine or other health-related fields. The students discussed how they responded to issues of underserved communities, economic inequality, racial discrimination or inadequate health care resources in Nashville. They reflected on how a faith-based education better equips students to "carry each other's burdens and so fulfill the law of Christ" while responding with justice and mercy to unmet needs. The session was moderated by Dr. Jonathan Thorndike, director of Belmont's Honors Program.
Also representing Belmont at the Christian Scholars Conference was Dr. Don Cusic, professor of Music Business, who presented "Free Burma Rangers: A Battle for Displaced People." The Free Burma Rangers is a humanitarian and evangelical group that brings help, hope and love to people in the war zones of Burma/ Myanmar. Pro-democracy groups send teams to be trained, supplied and sent into the areas under attack to provide emergency medical care, shelter, food, clothing and human rights documentation. The teams also operate a communication and information network inside Burma that provides real time information from areas under attack.  In addition to relief and reporting, other results of the teams' actions are the development of leadership capacity, civil society and the strengthening of inter-ethnic unity.