The first iteration of Belmont's Honors Scholars' Collaborative—a new curriculum within the Honors Program—concluded this spring with students presenting their final projects. Assistant Professor of Global Leadership Studies and Honors Dr. Mary Ellen Pethel led the year-long "History, Memory and Meaning" session where students completed projects centered on a theme chosen by the class.
A strong tie to Nashville was paramount as students discussed their topic and ultimately decided to pursue projects on Fort Negley. "The Fort has a rich history that hasn't been celebrated in the way that it should," said Dr. Pethel. Coincidentally, junior and class participant Nathan Achilles lives in the Wedgewood-Houston neighborhood, and while he walks at the Fort multiple times each week, never really understood the story.
"We wanted to connect with the community and collaborate as scholars," described Dr. Pethel. "Even though we worked collaboratively, each project is individually theirs where students had ownership and creative intellectual space to work within."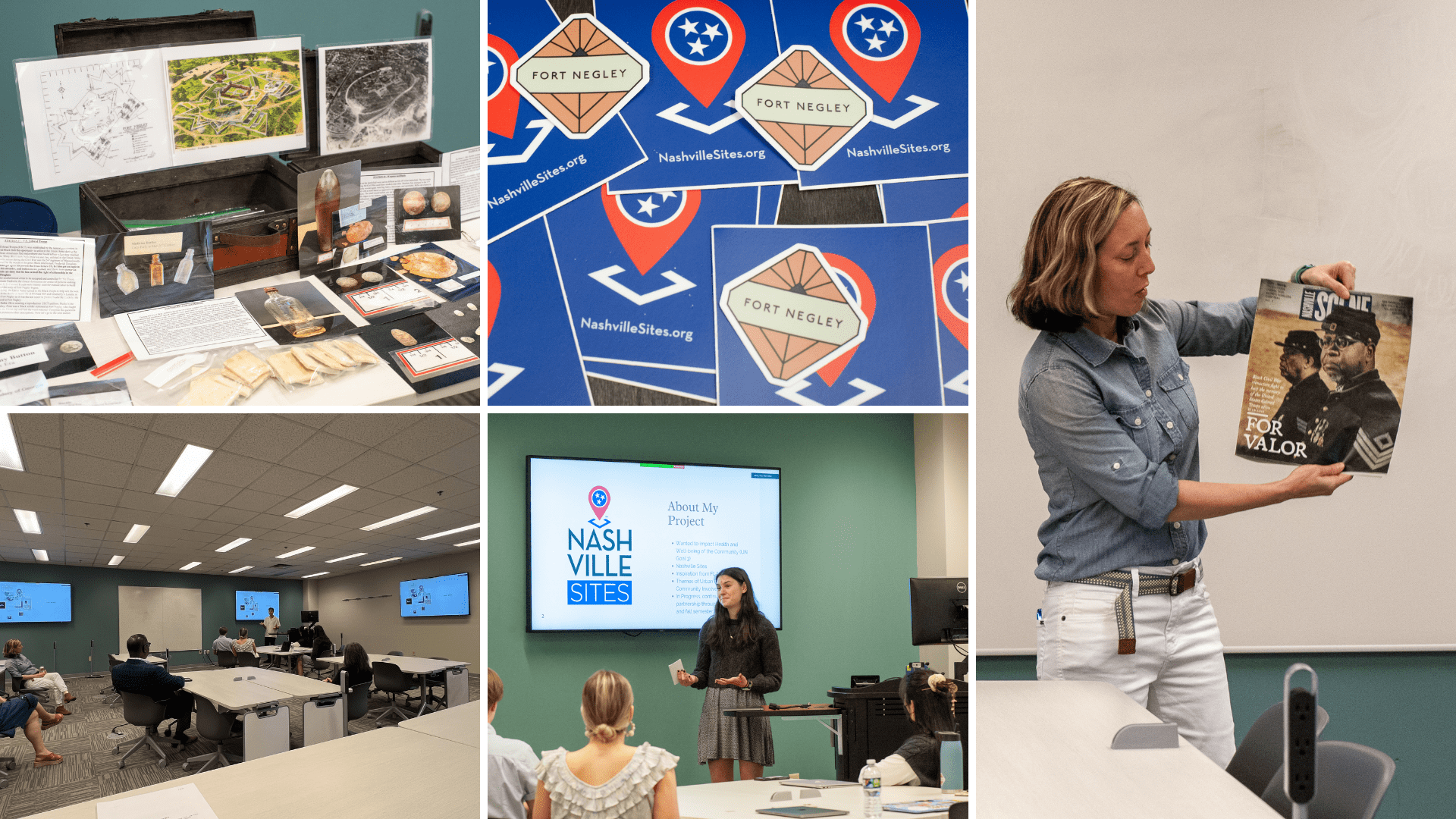 Fort Negley was built from October to December of 1862 by more than 2,700 enslaved and free African Americans. The largest inland fort built during the Civil War, it's been mostly ignored until recently as it's currently undergoing a master plan expected to be complete next fall.
Native Nashvillian Gary Burke was an essential resource for the students in their efforts to understand Fort Negley's history. Burke serves as a Civil War reenactor and recently learned of his direct tie to the Fort. His great-great-grandfather, Private Peter Bailey of the USCT 17th Regiment, fought for the Union at Fort Negley in the Battle of Nashville, December 15-16, 1864.
The student presentations were a culmination of a year's worth of research and work, each benefiting Fort Negley and the neighborhood in a significant way. Students were intentional about creating projects in line with the University's strategic pathways including championing better health and wellbeing for all and amplifying storytelling through messages of truth, beauty and goodness.
Student projects included brand design and marketing for the Fort, a traveling field trip exhibit for local students, a historical fiction play about the Fort's history, Sites of Memory website for UNESCO, Exhibit room design for Fort Negley's Welcome Center, mobile Edgehill walking tour for NashvilleSites.org, and a comparison of statues and their complex histories in the United States and Spain.
Local community members, including Burke, attended the presentations. "I am inspired by all of you and your creativity, your time and your passions to make this reality come true," he said.
"It was just a few group of us men, sitting on a hill at one point. Then eventually they built the visitor center, and more attention came to Fort Negley, but we always wondered where it would go after we're gone. I know now it's in great hands."
Pethel's students plan to launch their projects further through community integration in Metro Nashville Public Schools, the Fort Negley Visitors Center, NashvilleSites.org and others.