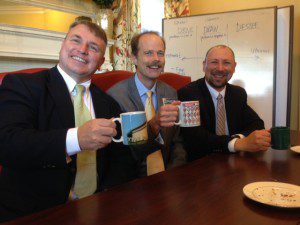 Belmont's Honors Program recently hosted two guests from Aquinas College in Nashville: Joseph Pearce, writer-in-residence and director for the Center for Faith and Culture, and Dr. Aaron Urbanczyk, dean of Arts and Sciences at Aquinas. Urbanczyk delivered a special lecture to the entering class of first-year Honors Program students on one of the foundational texts of Western philosophy and Christian theology, St. Augustine's Confessions.  The Honors students read Augustine's Confessions as a text in their entry course on "Classical Civilizations." Urbanczyk talked about the importance of reading, literacy and the Roman education system in the life and conversion experience of St. Augustine.
Pearce has written on a wide variety of literary figures including William Shakespeare, J.R.R. Tolkien, C.S. Lewis, G.K. Chesterton, Hilaire Belloc, Oscar Wilde and Alexander Solzhenitsyn. He was awarded the prestigious John C. Pollock Award for Christian biography for his book on Solzhenitsyn. His most recent books include Shakespeare on Love: Seeing the Catholic Presence in Romeo and Juliet (2013) and Bilbo's Journey: Discovering the Hidden Meaning in the Hobbit (2012). Pearce is the editor of the St. Austin Review and editor for the Ignatius Critical Editions published by Ignatius Press.  Pearce will return to Belmont in January as a special guest lecturer in an Honors course on the Inklings of Oxford.
Dr. Urbanczyk's teaching and scholarly interests include American literature, literary theory and 20th century Catholic fiction.  His essays, articles and reviews have appeared in Religion & the Arts, the St. Austin Review, The Intercollegiate Review, Modern Age, Essays in Arts & Sciences, Papers on Language & Literature, the Journal for Cultural & Religious Theory, Perspectives in Religious Studies, The Fellowship of Catholic Scholars Quarterly, The Catholic Thing, and the Ignatius Critical Editions of Frankenstein, The Scarlet Letter and Adventures of Huckleberry Finn.