The Office of Alumni Relations—host of Belmont's annual Homecoming celebration—has announced the calendar of festivities slated for Wednesday, Feb. 8 – Saturday, Feb. 11.
The University invites all Bruins, past and present, to celebrate more than 130 years of innovative and educational excellence. All students, alumni, faculty, staff and families are welcome. Be sure to cheer on the Men's and Women's Basketball teams Friday and Saturday amid their inaugural seasons in the Missouri Valley Conference. The Women's game against Evansville will be televised on ESPN3 on Friday. Tickets for both games (Men's and Women's) are available.
"No matter where our lives have taken us since graduating from Belmont, so many paths began in this shared place where we discovered more deeply who we were and who we wanted to be," said Chip Hayner, Director of Alumni & Family Engagement and the Executive Director of the Belmont University Alumni Association. "What makes Homecoming special is the opportunity for all of us as members of the Belmont community to realize how many of our individual paths now share common crossings, connecting us across generations, professions and life seasons. We're excited to create meaningful spaces during Homecoming for you to experience these connections anew and remember why it's so good to be part of the Belmont community."
Events are highlighted below, and a complete list of all 2023 Homecoming events can be found at belmont.edu/homecoming. Final event details are being added, so check the website for additional information.
Homecoming 2023 Highlights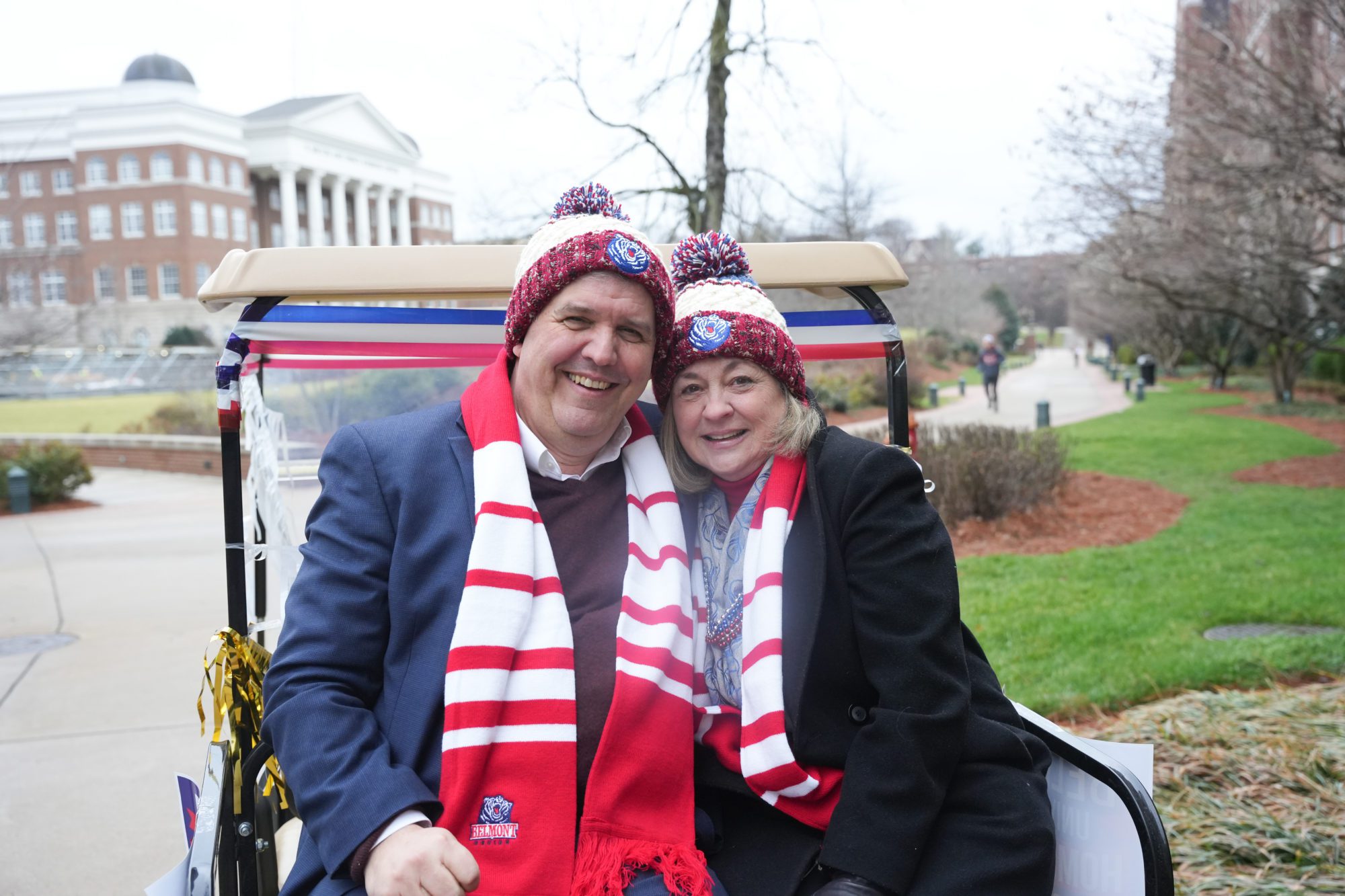 Wednesday, Feb. 8
Homecoming Parade, 10 a.m. | Bell Tower Plaza
Men's Basketball Watch Party, 5 p.m. | Bottle Cap 12South
Health Professions Graduate Student Mixer, 5 p.m. | Location TBD
Massey College of Business Student and Alumni Mixer, 5 p.m. | Barbara Massey Rogers Center, First Floor Lobby
Thursday, Feb. 9
Alumni Non-Profit Fair, 12:30 – 2:30 p.m. | Janet Ayers Academic Center Lobby
Build-a-Bruin, 3 – 5 p.m. | Beaman A&B + Lobby
Pickleball Tournament, 5 p.m. | FitRec. Open to all faculty, staff, students and alumni.  

Friday, Feb. 10
Homecoming Chapel, 10 a.m. | Gabhart Chapel
College of Law CLE, noon – 3 p.m. | Baskin Center
Black Student Association and Black Alumni Network Tailgate, 3 p.m. – 6 p.m. | Beaman A&B
College of Law Mixer, 3 – 5 p.m. | 12S Taproom
Women's Basketball vs. Evansville, 6:30 p.m. | Curb Event Center
Saturday, Feb. 11
Healthcare Heroes: How Therapy Dogs Change Lives!, 8:30 – 10:30 a.m. | Janet Ayers Academic Center, 4th Floor Conference Room
Reunion Brunch, 9:30 – 12:30 p.m. | Fisher Center for the Performing Arts
Student Tailgate, 11:30 a.m. – 12:30 p.m. | Outside Maddox Grand Atrium
Men's Basketball Game vs. UIC, 1 p.m. | Curb Event Center
Homecoming After Party, 7:30 p.m. | The Valkyrie Premier Club at GEODIS Park
Additional events listed at belmont.edu/homecoming. If you have questions or need assistance with Homecoming 2023 events, call 615.460.6723 or email alumni@belmont.edu.