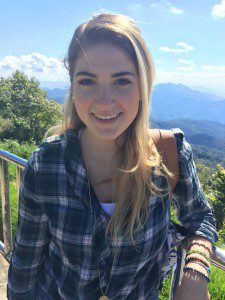 Sophomore social work major Sydney Holofcener's article, "Never Alone: Why I Want To Be a Social Worker," and music video were recently published in the national "New Social Worker" magazine.
Holofcener said she decided to enter her article for publication because her passion for social work is reflective in her past. "I believe that our stories matter, and the things that make up our past can become constructive parts of our future, if we let them. Putting my song and story out there was my try at showing people that hard situations can end in silver lining discoveries," she said. "Most importantly, I just wanted people to know that they are never alone in fighting the monsters in their minds or the past they try to hide."
Holofcener performs an original song and explains its history and her own connection. "It's no secret that my struggle with mental illness is what led me to discovering my passion for showing up and simply being there for people. God works in crazy good ways to get us to understand the life He has planned for us. I want my background and story to be something that inspires people towards understanding their own worth," she said. "My hope is that through sharing my story, others will know that they have nothing to hide from when it comes to being vulnerable and fully known– that is the path to freedom."
Holofcener hopes to get her Masters in mental health after completing her Bachelor's in social work and eventually become an adolescent therapist with a focus on treating those with behavioral and mood disorders. She said the Social Work Department at Belmont has made her confident in understanding God has created her to serve others, and her professors encourage her to walk toward the things that set her heart on fire and feel deeply for others.