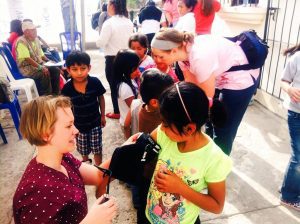 During Belmont's spring break last March, students and faculty from the nursing, pharmacy, physical therapy and social work programs traveled to Guatemala to provide health screenings, patient teaching programs and medications and vitamins to citizens in Antigua. The trip was made possible through the university's partnership with a Guatemalan coffee company, Kafes Guatemala, through its CoffeeMed Program. The students and faculty served over 350 people.
Belmont's College of Health Sciences and Nursing has been involved with the CoffeeMed Program for the last three years, serving more than 800 patients. The program aims to provide basic needs to workers on Guatemalan coffee plantations who don't always work under ideal conditions. In addition, the program takes students on a hands-on tour of plantations, hoping they will realize the importance of their involvement. Students who participate in the program are expected to fund the trip themselves by selling coffee from Kafes Guatemala in their communities.
In addition to current students and faculty, 2015 nursing graduate Claire Zetak served as a team leader on the trip. Zetak noted the importance of student engagement in an interview conducted recently with Roast Magazine. "In the health care profession, interdisciplinary works are always taking place," said Zetak. "Nurses are working with doctors or physical therapists or pharmacists, so this is an example of what they'll be doing in their future careers."
Founder and President of Kafes Guatemala Pablo Castaneda realizes the value of the help Belmont students bring to Guatemala and expressed his gratitude for their work. "Thank you, Belmont students, for your love for others," Castaneda said. "Never forget you can change lives for good. Your love for others is impacting so many lives, and it goes beyond medical attention to proving you are serving a living God."
For more information on the programs provided by the College of Health Sciences and Nursing, click here.