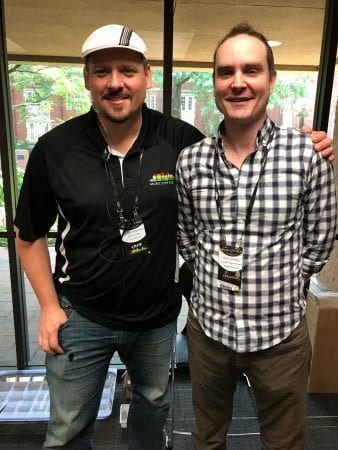 Dr. Scott Hawley, physics professor, spoke at the recent Music City Data event, part of the Music City Tech conference, held at Vanderbilt University. The conference featured technology lead developers from Nashville and around the USA from Microsoft, Amazon, Eventbrite and Quicken, speaking on topics in healthcare, entertainment, finance and technology.
Hawley shared experience in developing systems that incorporate artificial intelligence and signal processing in a talk entitled, "Because Nobody Wants  to Edit Drums: Building Trainable Audio Production Tools via Machine Learning." Hawley joined the Belmont faculty in 2006 as an astrophysicist, but transitioned to acoustical and audio-related physics to better serve his students which are largely Audio Engineering Technology majors.
At Music City Tech, Hawley received a Microsoft Azure cloud computing credits grant which he and AET/computer science undergraduate Ben Colburn plan to use to further their research.   This fall, Hawley will be co-chairing a session at the Acoustical Society of America conference entitled "Modeling Musical Instruments and Effects (Joint session between Musical Acoustics and Signal Processing in Acoustics)".