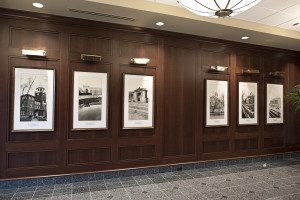 University Photographer Andrea Hallgren's photography is now displayed as a permanent art exhibit in the Barbara and Doyle Rogers Lobby located off the 15th Avenue entrance of the Randall and Sadie Baskin Center. Hallgren traveled to courthouse locations across the state to capture the black and white images of the structures.
"It was an honor and a pleasure to capture some of the state's most famed legal buildings, and I hope the photo installation will help people further appreciate the state's unique history," Hallgren said.
The goal was to combine a gallery that features both art and education for Belmont law students and visitors to the building. The images reflect Tennessee courthouses whose location or hosted trials played a significant role in law education including the Shelby County Courthouse where James Earl Ray appeared before Judge W. Preston Battle of the Criminal Court of Shelby County and pleaded guilty to the first degree murder of Dr. Martin Luther King, Jr.