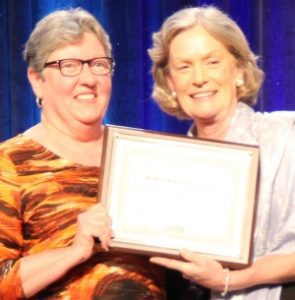 Dr. Yvette Hachtel, professor of occupational therapy at Belmont, was recently honored by the American Occupational Therapy Association (AOTA) with the Roster of Fellows Award. The Roster of Fellows recognizes occupational therapists who have made a significant contribution over time to the profession with a measured impact on consumers of occupational therapy services and/or members of the Association through their knowledge, expertise, leadership, advocacy and guidance.
Hachtel was specifically honored for her significant contributions in education and advocacy. She was cited for affecting for infusing professionalism and activism into the education of so many students for more than 30 years.
Hachtel is the fourth faculty member from Belmont's School of Occupational Therapy to be included in the Roster of Fellows. Dr. Susan Young, Dr. Debra Gibbs and Dr. Lorry Kleinfeld have also been recognized.