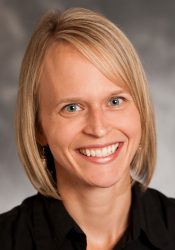 Suzanne Greenwalt, an instructor in the School of Physical Therapy, recently received certification as a Cardiovascular and Pulmonary Specialist from the American Board of Physical Therapy Specialties (ABPTS).  ABPTS is the national governing body for certification of clinical specialists in physical therapy.  Less than 200 physical therapists are certified in this particular specialty, and Greenwalt is the first physical therapist in Tennessee to gain this credential.  
"It's quite an accomplishment," said Dr. Renee Brown, the chairman of Belmont's School of Physical Therapy, "and it's great for our program.  The knowledge and experience she has gained will enhance her teaching and benefit our students. We congratulate her."
Cardiovascular and pulmonary physical therapy provides treatment for individuals who suffer from cardiovascular and pulmonary conditions, such as heart attacks, chronic obstructive pulmonary disease (COPD) and pulmonary fibrosis, to increase endurance and improve functional independence.  To gain certification, Greenwalt was required to provide 2,000 hours of direct care of patients with conditions involving the cardiovascular and pulmonary systems in both acute and rehabilitation settings.