Dr. Gideon Park, a Faculty Fellow in the Belmont Fellows Program, recently received a grant from the Wabash Center for Teaching and Learning in Theology and Religion, which is funded by Lilly Endowment Inc. and located at Wabash College in Crawfordsville, Indiana.
The grant, "Faculty Initiatives Promoting Racial/ Ethnic Diversity at Belmont University," seeks to more fully express Belmont's identity as a Christian university by creating an inclusive culture for minority faculty, staff and students of color. To accomplish this goal, a Diversity Lunch Series was launched with support from Tola Pokrywka in the College of Theology and Christian Ministry. This series will enable faculty from different colleges and departments to share a meal, build community and brainstorm faculty diversity initiatives for 2018-19.
The Diversity Lunch Series is also supported with generous funding from the Provost's Office and is hosted by the Faculty Inclusion, Diversity and Equity Committee.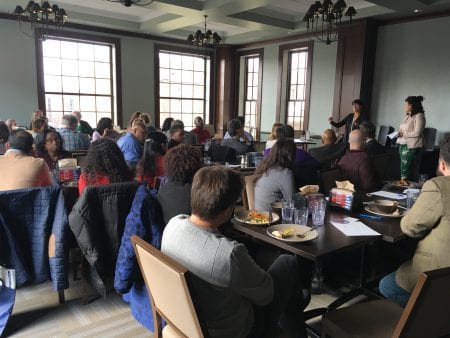 The first lunch took place on January 29 with Sarah Shin and was a success with 50 people in attendance. Shin is associate national director of evangelism for InterVarsity Christian Fellowship and author of Beyond Colorblind: Redeeming our Ethnic Journey. Dr. Todd Lake, VP of spiritual development, writes: "Belmont's commitment to being a multi-racial, multi-ethnic Christian community of learning and service is enriched by hearing from author/ practitioners like Sarah Shin, who model how the best of Christian thinking and practice can help us become what God is calling us to be."
Shin's visit to campus included a chapel talk and ethnicity-awareness workshop for students. After attending the Saturday workshop, first year student Baylee Johnson commented: "I am glad I was able to attend. Ideas were brought to our attention about trying to become aware of ourselves and differences between others. Sarah talked about how there is beauty in every culture and how we should 'commit to justice and commit to Jesus throughout our personal journey.'"
The faculty discussion was moderated by Dr. Mona Ivey-Soto, committee co-chair and assistant professor of education. Dr. Bryce Sullivan, dean of the College of Liberal Arts and Social Sciences, attended the event and applauded the work of the committee: "The luncheon conversation with Sarah Shin hosted by the Faculty Inclusion, Diversity and Equity Committee was superb. Not only were Sarah's ideas about ethnic identities and transformation enlightening, but the discussions with faculty colleagues created an opportunity to learn from others who are passionate about improving our community."
Dr. Lakisha Simmons, committee chair and associate professor of management information systems, invites all Belmont faculty to participate. "The Faculty Inclusion, Diversity and Equity Committee aims to be, and empowers others to be, agents of change for inclusivity, diversity and equity at Belmont University. After a successful luncheon with Sarah Shin, we hope to continue the momentum with three more faculty conversations."
Additional events include conversations February 9 with Dr. Larycia Hawkins, March 14 with Dr. David I. Smith co-sponsored by the Teaching Center, and a final event on April 3 with Dean Emilie Townes co-sponsored by the College of Theology and Christian Ministry. Space is limited so please RSVP to gideon.park@belmont.edu.