Belmont alumnus Cody Fry ('12) is a man of many talents: pianist, guitarist, singer, songwriter, composer, arranger, conductor and producer… just to name a few. Graduating as a commercial music major in Belmont's College of Music and Performing Arts, Cody has worked tirelessly throughout the last ten years building an impressive career, developing a strong skillset extending far past vocals.
In a town filled with musicians abundant, Cody has carved out a space for orchestral and pop music to live harmoniously together. "I've always loved film scoring; I've always loved orchestras, and I've also always loved pop songwriting," Fry reflected. "I thought I had to keep them separate because the orchestration and arranging nerd in me thought it wasn't palatable for live audiences."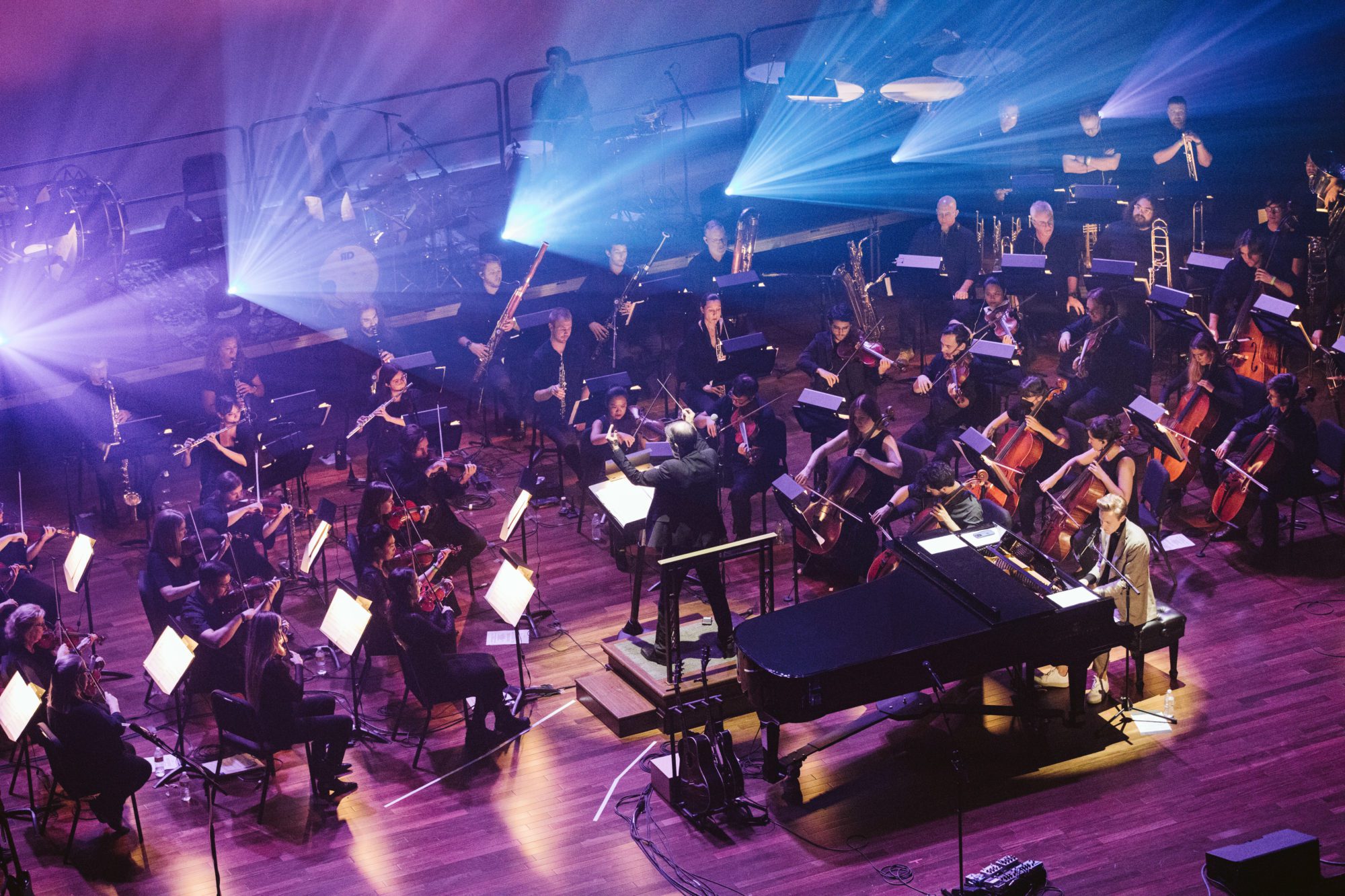 His dream show came together on Sept. 22 at Belmont's Fisher Center for the Performing Arts. Celebrating the conjunction of these two seemingly different genres live, the Grammy-nominated arranger performed "Cody Fry & Friends," a one-time-only show featuring a 60-piece symphony orchestra, live band and special guests including Ben Rector, Scott Mulvahill and Cory Wong.
The show—and first orchestral concert at the Fisher Center—sold out in one day, filling all 1,727 seats. "I can't believe you're all really here," Fry marveled after the first song. "I've been dreaming about this kind of show since I was a little kid. It's surreal." The energy in the performance hall was palpable.
Along with many special guests, six current students and numerous alumni played in the orchestra with Cody's father, Emmy-winner Gary Fry conducting. "It's insane and special to me to share the stage with my dad, Gary Fry. He's kept me together my whole life and now he's going to keep us all together tonight."
During the show, Cody took the audience through classical, pop and rock hits, each with orchestral support. He arranged Claude Debussy's Clair de Lune with his original track "Photograph," played Bon Jovi's "Livin' on a Prayer," and the song that started it all, "I Hear a Symphony," which first went viral on TikTok in 2021. Ben Rector joined Cody on stage for his song "Sailboat," first played by an orchestra during a live recording at Belmont's Ocean Way Studio A.
When the two concluded "Sailboat," Rector said, "It's an honor to watch this all come together; a real treat for me. It's been one of the great pleasures of my life watching you build this thing."
Cody ended the performance with his arrangement of The Beatle's "Eleanor Rigby," which earned him a 2022 Grammy nomination for Best Arrangement, Instruments and Vocals. The crowd erupted in a minutes-long standing ovation, following an audience-sung, perfectly-harmonized C major chord.
The next day, he spent time on campus with students for a WELL-core interview event and as a guest instructor in composition and arranging classes, sharing reflections from the night before, advice for music students and an inside look at how he's built his career.
Cody shared with students that he hasn't always been the frontman the crowd cheers for. "I've always wanted to be an artist, but I'm so grateful for the time I was in bands—playing for Ben Rector, Hunter Hayes, Dave Barnes—being alongside to shadow how others work," he said. "It's also important to develop empathy for all the different parts of what people do in music."
Relationships were the most significant part of college for Cody and have directly impacted the trajectory of his career. "All of the big gigs I've had were all because of people I knew at Belmont," he reflected. "The people sitting in this room—those are the people who are going to help you rise through the ranks. The rising tide will lift everyone together."
He imparted wisdom to students about honing their skills and staying focused on their goals. "Your degree is just the piece of paper, but your education is the proof," said the CMPA alumnus. "When you get to show that to people; that's what matters."
A couple of big projects are on the horizon for Cody including writing a musical and an upcoming studio orchestral album… and recruiting more people to become French horn enthusiasts.