Luke Smith, a Belmont MBA student and starting guard on the Belmont Bruins men's basketball team, has a schedule that looks like full-court press.
His graduate-level classes wrap up each day at 9 p.m., so he does his homework in the mornings. By 1 p.m., he's due at the gym for practice, weight-training and game film review, which doesn't finish until 5 p.m. He'll grab a quick dinner before class at 6 p.m., and the next day, it happens again – well, unless the team has a game, which puts a bump in the schedule about 33 times a season.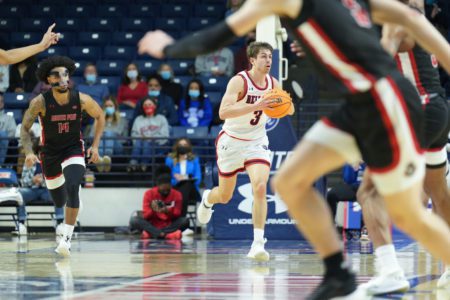 Similar to his work on the court, though, he doesn't have to go it alone. Smith, who received a B.S. in business in May 2021, is one of five Belmont men's basketball players who have already completed undergraduate degrees and are now pursuing graduate programs, including Grayson Murphy (B.S. in Business, May 2021), Nick Muszynski (B.S. in Corporate Communications, May 2021), Caleb Hollander (B.S. in Business, May 2021) and Tate Pierson (double major in Finance & Entrepreneurship, May 2021).
"Thankfully we're all going through it together," says Muszynski, who notes he has pretty much the exact schedule of his graduate-scholar teammates.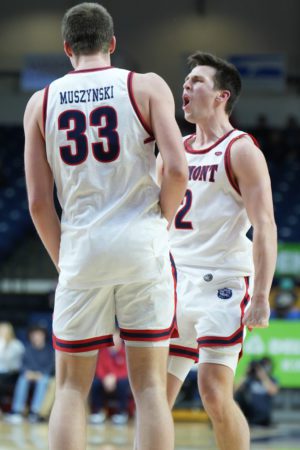 "We kind of support each other and lift each other up," Pierson added.
According to the NCAA and Graduation Success Rate data, Division I student-athletes continue to graduate at their highest rate in 20 years. The overall single-year rate held steady at last year's rate of 90 percent. And yet, it's still a rare occurrence to have five athletes on a team pursuing post-graduate degrees at once.
Other than the occasional player such as Tyler Scanlon who transferred from Boston University and completed his graduate degree at Belmont, it's more common in college sports that a player will transfer to another college after undergrad or move on from college athletics, says Greg Sage, assistant athletic director for broadcasting and media relations. "The way they love each other and chose to do this at Belmont speaks to the overall atmosphere here," he said.
So how do they make it all happen? Muszynski says staying organized and prepared is key – developing a routine and sticking with it. Smith adds that it means planning ahead with the help of professors who often provide schedules upfront. He expects the time management skills honed today will come in handy post-college. "It will definitely help us later in life when we have a job and kids and family," he says.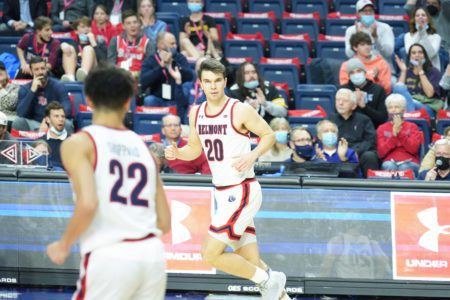 The teammates also say the competition and drive they learn on the court carries over to the classroom – maybe not amongst each other but within themselves. "Play to your best," Pierson says, quoting Men's Basketball Coach Casey Alexander. Working together on the court translates to work on group projects and vice versa.
"Everyone in basketball has a different skill set," Smith explains. Pierson is a shooter, Caleb Hollander a great passer, for example. "We're all kind of different and different academically as well." Smith might take on the math while Hollander handles more of the writing and case study analysis.
And of course they all have different goals and dreams to pursue with their degrees too.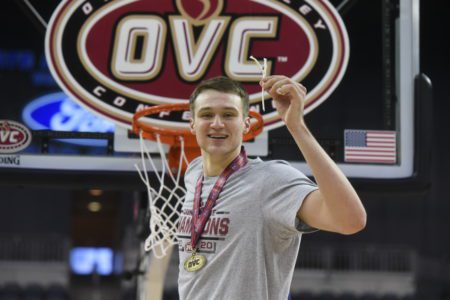 Pierson is studying for investment licensing exams, the Series 7 and 63, and plans to join a team of private wealth managers. Muszynski and Grayson Murphy would like to continue playing basketball internationally on a professional level before heading into sports marketing or sports management, respectively. Hollander has his eye on healthcare, maybe working with a rehabilitation facility. And Smith has his post-college job lined up coaching at his high school alma mater, Knoxville Catholic High School.
Despite the different paths they plan to pursue – and whether on the court or in the classroom – it all comes back to the notion of team and the community they have created for themselves. "Doing it together," Pierson said, "is the best part."