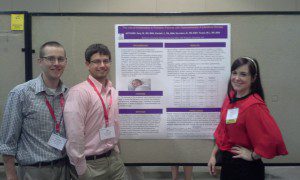 Belmont School of Nursing graduate students, Brandon Saunders, B.S.N, RN, Marjorie Gray B.S.N., RN, and Jake Kendall, B.S.N., RN, presented their poster titled "The Use of Antiemetics in Pediatric Patients with Gastroenteritis: A Literature Review" this summer at the 30th annual Pediatric Nursing Conference at the Gaylord National Resort and Convention Center in National Harbor, Maryland. This scholarship opportunity was a product of their evidence-based practice project requirement for the Research Applications course taught by Associate Professor of Nursing Dr. Carrie Harvey in the fall of 2013.
"This is an outstanding accomplishment for these graduate students and their faculty member. We are proud of their efforts to improve the care of pediatric patients and we look forward to all they will accomplish as advanced practice nurses," said Associate Dean of Nursing Dr. Martha Buckner.
The School of Nursing provided financial support for the students' endeavor and commitment to learning.