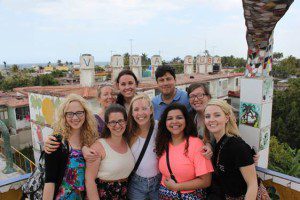 Twenty-five Belmont students, led by faculty members Jose Gonzalez and Marieta Velikova, recently returned from a 10-day trip to Cuba where Gonzales and Velikova taught a course entitled "The Emergence of Private Enterprise within the Boundaries of a Communist Economy."
During the trip, students explored the economic and policy changes the island is undergoing and how those changes are impacting the economy, particularly small business owners. In addition to exploring the island and its culture, student participants heard from local economists and lawyers, attended sessions at the University of Havana and interacted with medical students after hearing a presentation on the Cuban health care system.
Gonzales said he encourages all of his students to study abroad whenever possible and even leads multiple trips annually. "I think it's one of the most valuable experiences that one can have while in college, when done correctly. Every trip I plan though, I like to anchor it around the broader theme of entrepreneurship and economic development. Cuba is no exception. We conceptualized this trip to explore recent economic reforms undertaken in Cuba that allow micro enterprise development to flourish," Gonzalez said.
Senior marketing and music business major Erin Beezley said she has spent a lot of time traveling abroad, but when the opportunity to venture to Cuba presented itself she was eager to learn more. After spending time in Cuba and the people she met, Beezley said she hopes other students will follow and spend time in the country. "The people were kind and welcoming, the food was delicious and the culture was vibrant…I hope other Americans will open their minds and hearts…and share in the same life-changing journey that I was lucky enough to experience."