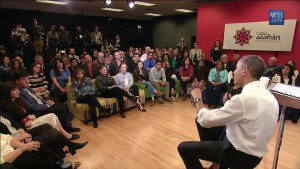 President Barack Obama visited Nashville's Casa Azafrán Tuesday on a stop to discuss his recent executive action on immigration reform. Co-founded by Belmont Instructor of Entrepreneurship and Management Jose Gonzalez, Casa Azafrán is a collaborative gathering space home to a number of immigration advocacy nonprofits, including Conexión Américas, a second organization Gonzalez co-founded.
During his time at Casa Azafrán, President Obama spoke to Nashville's welcoming spirit and desire to celebrate the roots and tradition of its diverse residents, noting the city is home to one of the largest growing immigrant populations in the country. Gonzalez said the day was a celebration of Obama's recognition of Nashville's inclusivity and tolerance. "Nashville is a great place to live, work and prosper, a place that embraces the growing diversity of its population and a place where anyone can feel welcome, regardless of what part of the country…or the world they come from," he said.
Gonzalez also integrates his experiences with Casa Azafrán into his teaching, allowing his students to take a trip to the site each semester to see the community center in action. While there, students see work that is happening and are able to connect the first-hand experience to the topics they are learning in Gonzalez's courses. "Whether I'm talking about financial management, globalization or social entrepreneurship, there's so much material I'm able to bring into the class from my experience at Conexión Américas," he said.
Gonzalez said he is proud of the exposure that President Obama's visit has brought to both the efforts of his organizations, as well as Nashville. "It is a great honor to be contributing in a small way to this effort, and Tuesday was a fantastic day to reflect on all that has been accomplished," Gonzalez said.