The Belmont community is known for its passion to serve the city it calls home. From the first week students move to campus, they begin their journey of making connections in the community, serving others and developing meaningful relationships with the people who make Nashville great. To further these important opportunities, Belmont has launched Get Connected 2.0, a website for students, faculty and staff to match their individual interests with needs in the area and help local agencies connect with volunteers.
Director of Service-Learning Tim Stewart says the platform is a great way for new campus-community relationships to be fostered. "Get Connected gives an additional, exciting tool for reaching out to our community and for them to reach out to us. We hope it will make it easier for our students, faculty and staff to find ways to share their passion for the world and for our community to share their wealth of opportunities with us."
The website can either be accessed through the green icon on the Launchpad of MyBelmont, which will automatically create a Get Connected account the first time you log in, or by visiting the main site and logging in through the red "Students and Faculty Login Here" link using your MyBelmont username and password. By clicking on the My Profile tab at the top of the Get Connected home page, volunteers can select personal 'Causes and Interests' and become a fan of agencies so the website can suggest additional service opportunities.
Additionally, students can use these simple instructions to get started.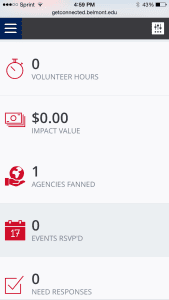 Although the new and improved version is new to most of the Belmont student body, some have been privy to the system as they used it to serve last semester. During the winter months, Belmont students run a homeless shelter twice a week, partnering with Room In The Inn, where volunteers prepare and serve food to build community with residents. It is quite unheard of for students to be running a homeless shelter alone and on a school campus, and it is unusual for any site participating with Room In the Inn to host multiple nights a week. Senior psychology major Iris Chiang, last year's volunteer coordinator and part time operations and campus outreach lead, could not say enough about the benefits of the website and the meaningful volunteer experience she has had.
"When I first had to learn the website, it was all new and took time to develop, but I was able to see it grow, and I learned to really appreciate the way it simplifies my role with RITI. Now, I don't need to make my own spread sheets and individually input emails and names," she said. "Not only has it become user-friendly for the people organizing volunteer events, it is also user-friendly for volunteers. You can search for almost anything you are interested in in the greater Nashville area, which is what I love most about it. I can expand my horizons to serve my neighbors' and my larger community's needs."
The ease of connection is not the only benefit of the system. Belmont's Ingram Scholars are required to serve 60 hours a semester at the Boys and Girls Club and previously completed individual documentation for verification purposes. With Get Connected, the process is much simpler. Ingram scholar Robin Weyman explained the new online process saying, "I volunteer, go home, input the hours, Boys & Girls Club directors verify the hours at a time that is convenient for them and then Belmont can check my hours when it's necessary. There are no chances of papers or hours getting lost in the shuffle," she said. "It's much easier to keep track of my hours, as well. With Get Connected, I know exactly how many hours I have completed, and it's all organized neatly by date. This is extraordinarily nice to have when filling out school applications."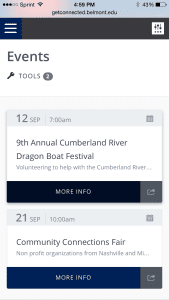 From the agency perspective, there has never been a better way to find the hands they depend on. Preston Taylor Ministries, an organization devoted to empowering youth in the Preston Taylor neighborhood, has used Get Connected as a sole resource for getting the help they need. Volunteer Coordinator Martha Willis said other organizations should take note at the success they have had through the system.
"We are immensely grateful for the Get Connected system that Belmont's service-learning department has introduced as a practical and efficient means for scheduling and tracking students' service learning hours. Preston Taylor Ministries has found that this system has streamlined, and overall made much simpler, the process of both receiving communication from students regarding their service requirements, as well as clearly tracking and approving those hours for the purpose of both their classes and our agency. We have nothing but positive things to say about the Get Connected system and look forward to using it to help further engage Belmont students with Preston Taylor again this school year," she said.
The hope is that this tool will not only continue to keep students actively involved in the community, but that it will also inspire some, who may have never before had the opportunity, to strive to find a meaningful way to spend their spare time. Chiang, for example, said her role with Room in the Inn has been one of the most rewarding things she has done in college.
"I am more patient and organized. I know how to manage events and people better. I worked closely with a different group of diverse and interesting students from all over the world every week and dined with such cool people who are just dying to tell you about these unbelievable stories! I couldn't have experienced any of that without volunteering with Room in the Inn," she said. "Specifically from my perspective, fostering community and relationships is what Room in the Inn is all about, and GetConnected is just making that a more convenient thing to do."
As the Belmont celebrates its 125th anniversary this year, the community is taking pride in its belief in something greater. Service, learning and relationships are a few of the many ways to experience this belief.