Thanks for being very informative, approachable & giving practical cheap ways to do science!
I really enjoyed the day! Thanks for putting it together and thanks for making me feel comfortable to ask questions.
Another WONDERFUL experience w/ Dr. Garrett and Belmont! Love visiting here with all the outreach and substantial professional development. THANK YOU!
I enjoyed seeing a higher level of questioning.  I can see how ideas begin to merge.
These are just a few of the comments from attendees at the fifth annual installment of the It's Easy Being Green:  Budget-Friendly Safety-Conscious Chemistry Labs for the Secondary Science Classroom of Today workshop series, hosted by the Department of Chemistry and Physics.
Throughout the month of June, event organizer Dr. Danielle Garrett, assistant professor of chemistry education, hosted three day-long workshops for middle and high school science teachers. In the workshop this year "Go Green with G3: Garden Indicators, Gases and Galvanic Cells, participants engaged in lab work focusing on anthocyanin acid-base indicators from the garden, the ideal gas law and stoichiometry, and reduction potentials and galvanic cells.
This year, 42 attendees from 13 counties participated in the workshop series at Belmont, with a few teachers coming from as far as Knoxville to attend. More than 40 percent of the participants reported having attended at least one previous workshop since the program's launch in 2015.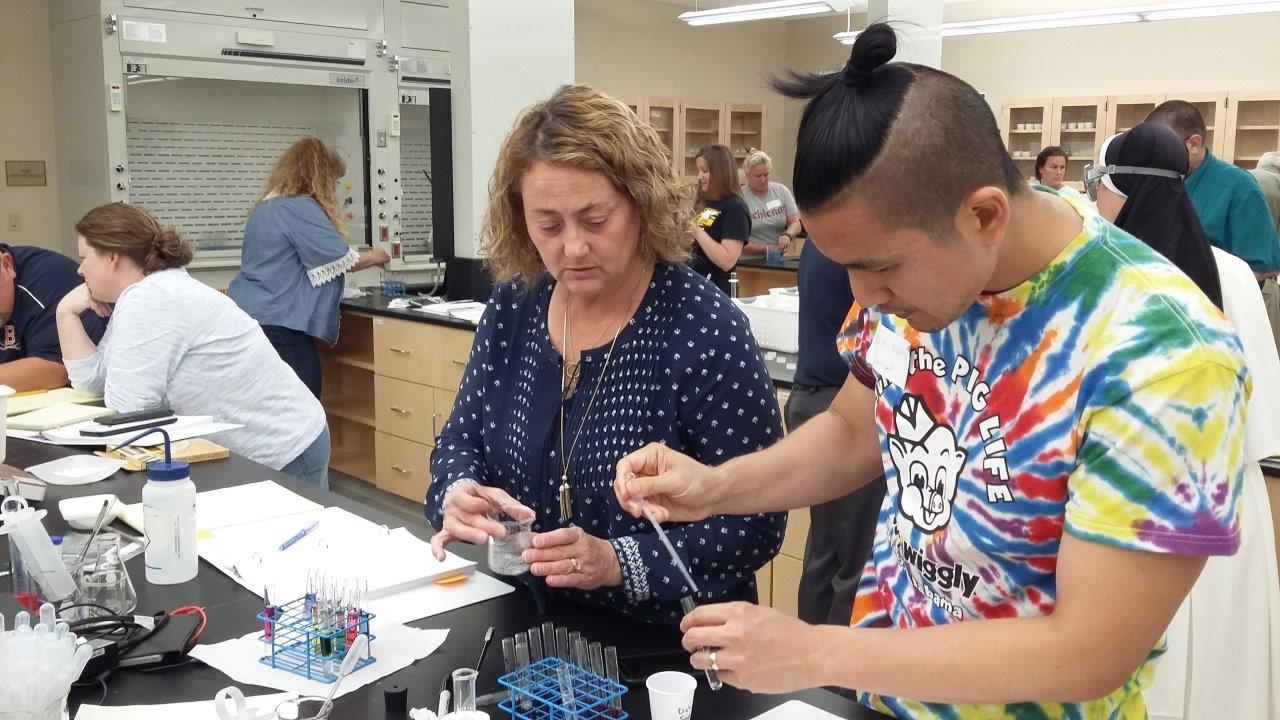 "I love the fact that each year I get a mix of both returning teachers and new attendees. It makes the experience so much richer, as these events not only provide teachers with hands-on professional development in chemistry, but they also serve as a way for teachers to make new professional connections – building a network of support and camaraderie," Garrett said.
At the end of each workshop, participants are given a short questionnaire to complete. "The questionnaire helps me collect information about which labs the teachers found most useful and what topics they would like to see for future It's Easy Being Green workshops," Garrett said. "It's great to see how many of the returning teachers are incorporating the labs and ideas they get at my workshop into their classrooms. Their continued positive feedback and enthusiasm for the content fuel my commitment to try to make each new workshop better than the last."