Belmont's University Ministries provided another opportunity for Belmont students, faculty and staff to gain exposure and be immersed in the local culture of different communities during Spring Break, March 6-10.
Mission trip teams traveled to Brazil, Guatemala, Costa Rica, Jamaica, Washington D.C. and Seattle for the week. Each trip had a focus on poverty engagement, immigration, community development, rural poverty or restorative justice.
---
Brazil
Biology faculty member Chris Barton and Traci Hardin in the Office of the Provost led a group of 22 students who spent the week in Brazil on the Amazon River. The team traveled with Justice & Mercy International (JMI), a Nashville-based non-profit ministry that serves the Amazon and Moldova.
"The most impactful thing for me was seeing how the students really jumped in and worked so hard during the week," Barton said. "The trip is not for everyone – you're hot, nasty and tired most of the time, but the students were just awesome."
Vast in size and need, the State of the Amazonas has a population of 3.5 million people and a land area equal to France, Spain, Sweden and Greece combined. Yearly floods displace upwards of 70,000 families from their homes and only half of the villages on the Amazon River have access to clean water.
The JMI Amazon boat trip equipped Belmont travelers to visit numerous villages, with the purpose of educating, encouraging and caring for people living along the Amazon's endless banks. They also helped set up medical and dental clinics, organized games and crafts for kids in the villages and helped build a house in one of the villages.
"For one of the villages, we were the first group that has ever visited them from the outside," Barton said. "So, providing medical and dental care for them was really special, and it was even more special to have the opportunity to do it with Belmont students."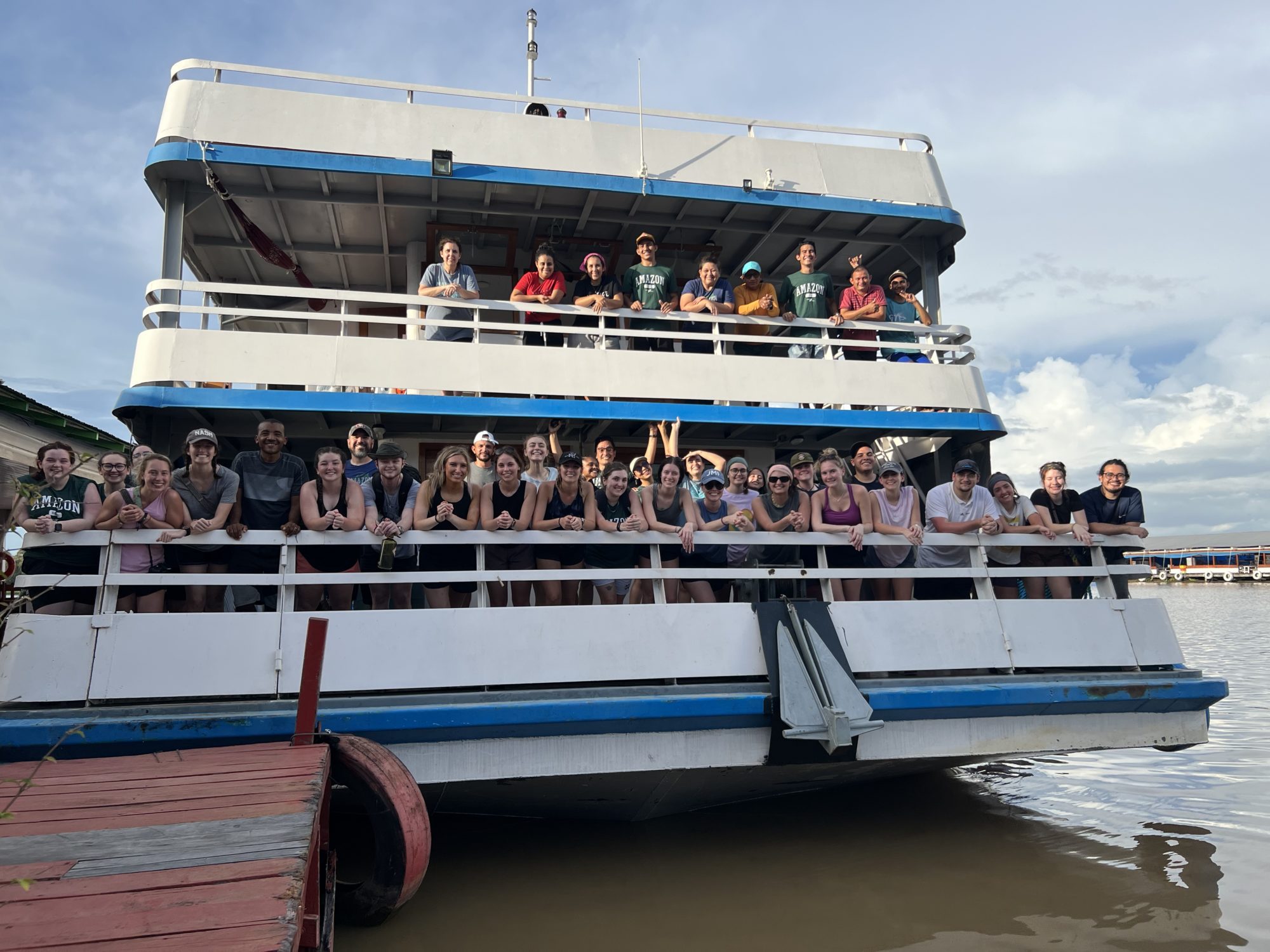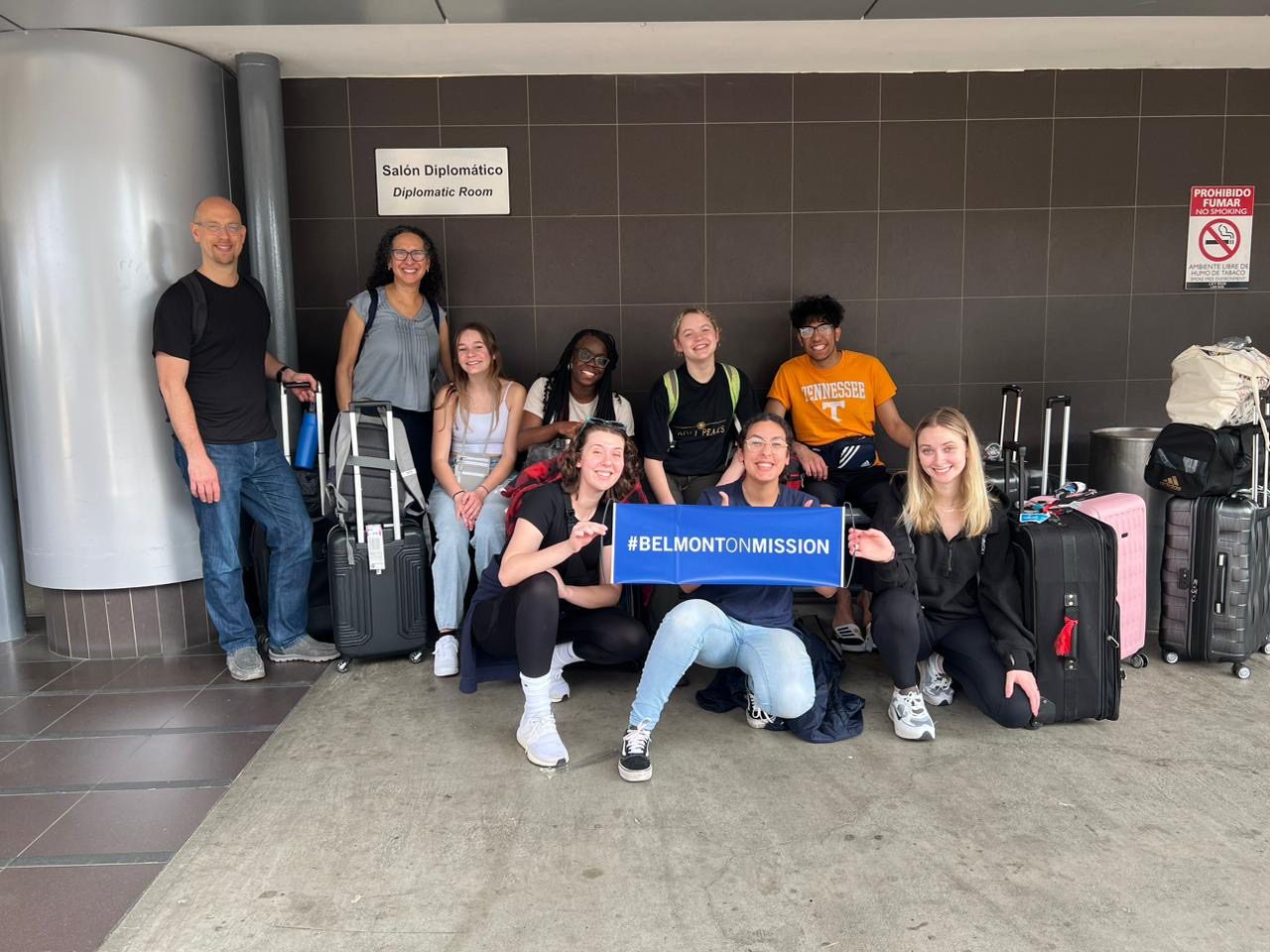 Costa Rica
In Costa Rica, Belmont partnered with a local church to distribute food to the small community of Vasconia in Parrita and serve in other church ministries. They also connected with children and teachers at a local school and participated in minor building projects. Dr. Marnie Vanden Noven and David Schreiber led a group of nine honors students.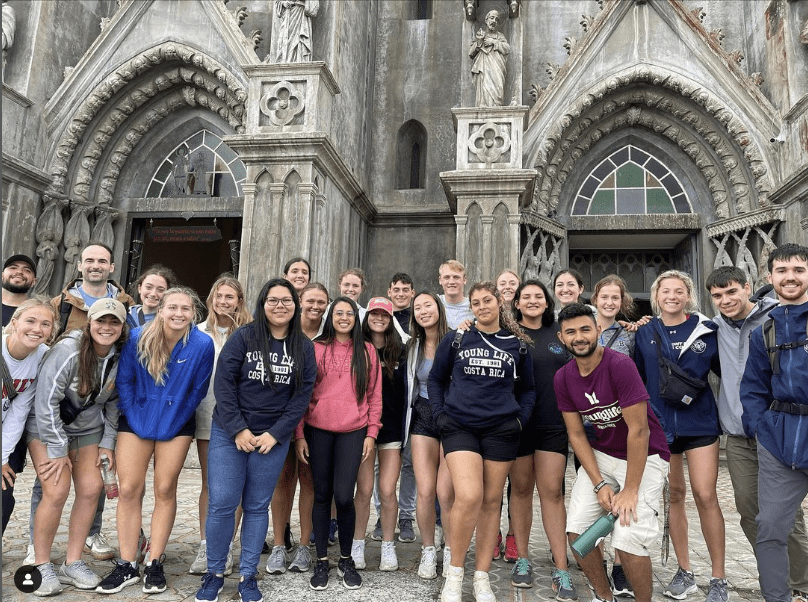 A group of 15 student-athletes from Belmont's Cross Country, Women and Men's Soccer and Volleyball programs also traveled to Costa Rica on a mission trip. Director of Student-Athlete Formation Ryan Neises and Graduate Assistant Athletic Trainer Grace Kunesh traveled with the students to partner with Young Life and worked on several projects at their El Chante Retreat Center. During the evenings, they were able to go into San Jose to connect with local teens in Young Life through sports.
"Our whole group was impacted by working alongside the people of Young Life Costa Rica and partnering with them in their amazing ministry," Neises said. "During the week, we did the things that God desires for our lives: serve, pray, worship, laugh, play and share life together, among other things. I can't wait to continue this beautiful partnership between YLCR and Belmont Athletics and to see the long-term impact it has on our student-athletes."
Jamaica
Although Jamaica is well-known for tourism and is considered a tropical paradise, many communities lack basic necessities. A team of seven students along with two Massey College of Business faculty Drs. Elaine Tontoh and Colin Cannonier traveled to Salt March in Montego Bay, Jamaica to work with Jacob's Well Church and Basic School.
"It was impactful to work side by side with construction workers who were also church members," Tontoh said. "They had so little in terms of material things but were always grateful to God and filled with joy. We learned a lesson to be thankful always and be grateful for the abundance of things we enjoy within the United States. Joy does not flow from material things. Joy comes from God."
The team assisted in a construction project to lay the foundation for an extra classroom by toting buckets of sand, stone and mortar to the building site. The additional classroom will accommodate the 62 schoolchildren at Jacob's Well Basic School. The Belmont group also helped teachers in the classroom, read Bible stories, played with children and taught Bible songs like "His Banner over Me is Love" to the pre-kindergarten children.
Jamaica was junior international politics major Nebiu Ermias's first mission trip. It was a first for the other students on his team as well. 
"I think the trip affected me more than I feel like I affected the people in that community," Ermias said. "Just seeing the type of lifestyle that they were living, and they were so happy with the little they had. That was so motivating to me. It very much humbled me. They were so grateful for even the little bit of work we did for them. That makes me want to be better in my spiritual life and not take everything that I have for granted."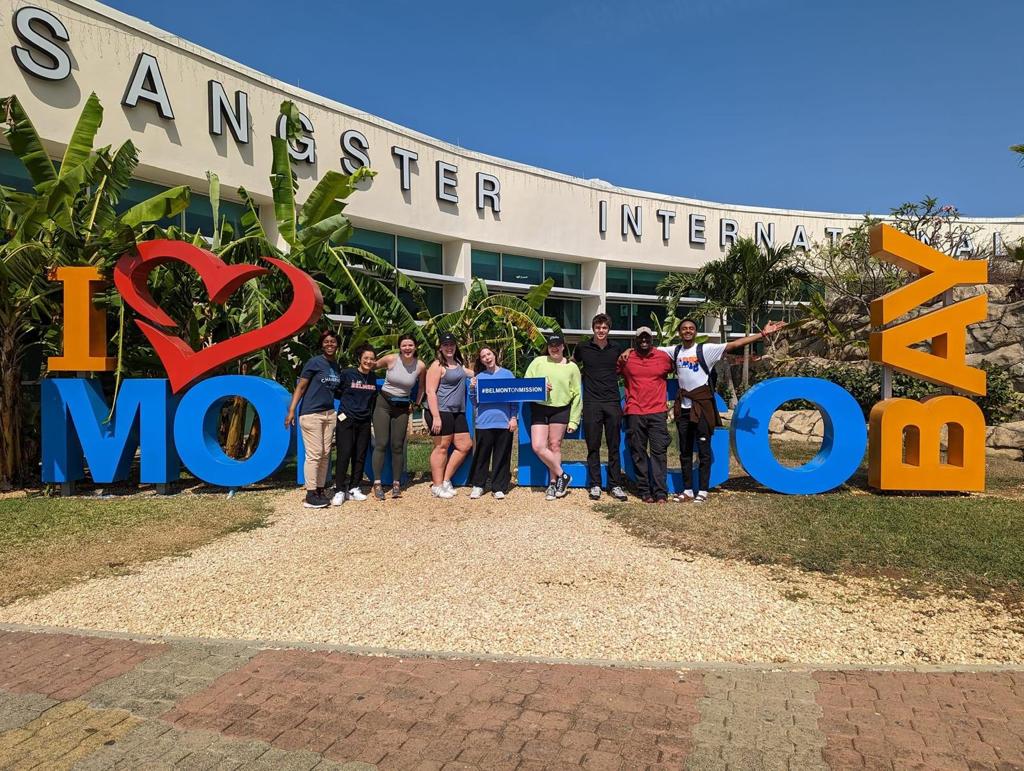 Washington D.C.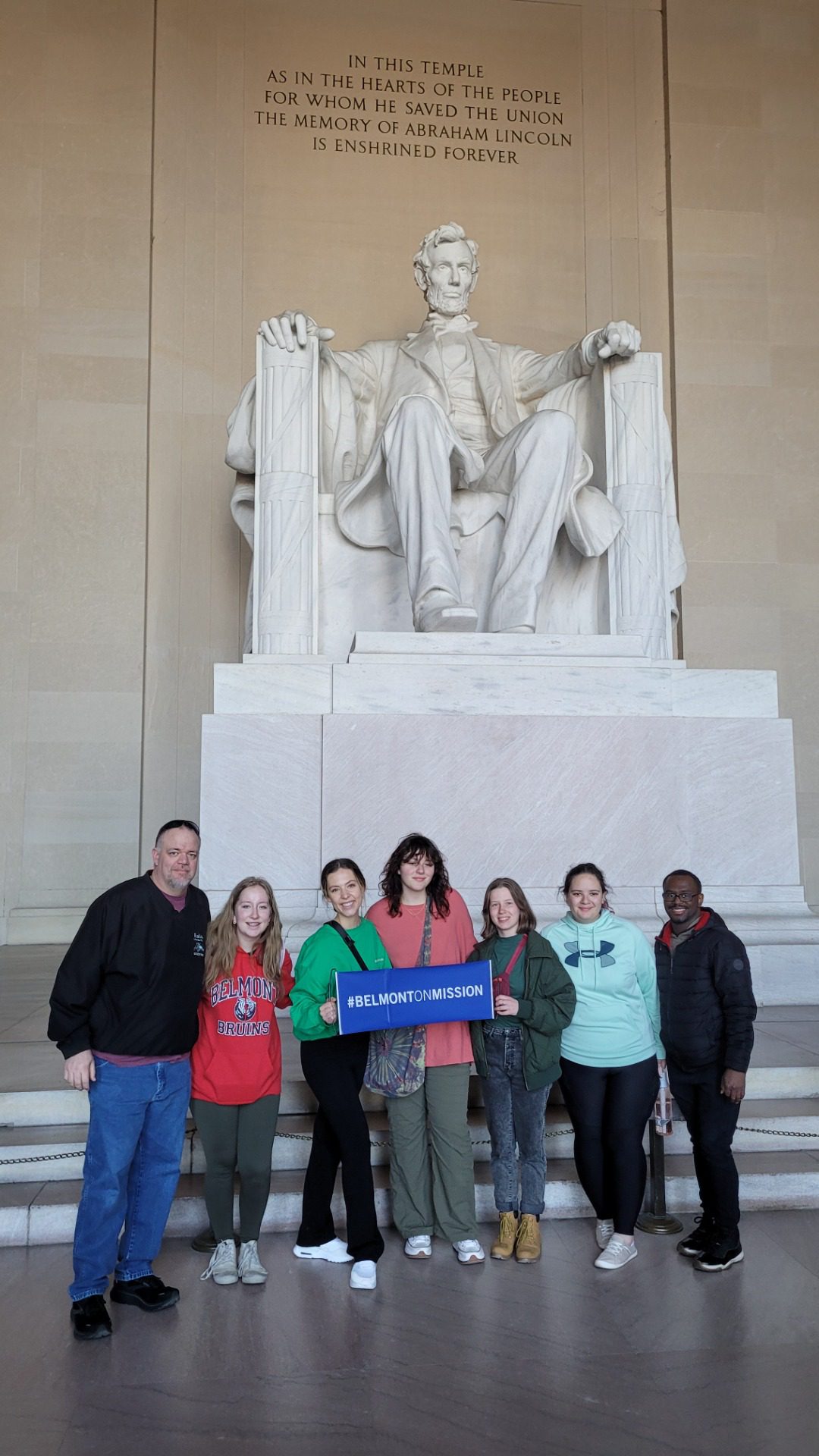 A seven-person mission team partnered with Hughes Methodist Church and helped with the church's food distribution program that serves 800 families each week in Washington D.C. The team also helped set up a space at the church where a recently immigrated Columbian seamstress will teach sewing classes to community members in an effort to equip them with an income-earning trade.
"We also had the opportunity to serve at Martha's Table, another food distribution program that serves families in the D.C. area," Belmont staff co-leader Madeleine Fossler said. "I was impacted by our conversations with community members who came regularly to the food distribution. It was a reminder of the need within our own cities for food access programs and services to make this possible."
Fossler works in the College of Liberal Arts and Social Sciences and was accompanied by Belmont security guard Justin Click as a co-leader.
"The most impactful thing for me was on a personal level," Click said. "I lost my dad in October 2021, and I used to work with him all the time. The things we did at the church were the same things we used to do. I felt a connection with him that I have lost over the last couple of years. I was also able to share things that my dad taught me with the students and the workers of the church. It was humbling for me to be able to feel that connection again."
Seattle
The Pacific Northwest is one of the most unchurched regions in the U.S. Six Belmont students and two faculty served alongside two area church plants in Seattle, Coastline Church and First Free Methodist Church. They spent the last few days working with an organization that assists Seattle's homeless population called Union Mission Gospel. Belmont admissions coordinators Elise Haines and Abigail Martin led the group.
"Seattle is ranked No. 1 with the percentage of adults having feelings of depression, which means this is a city desperate for hope," Martin said. "Everyday interactions we had with people who live in the Belltown Neighborhood and the conversations we had opened our eyes to see that despite the loneliness in the city, God is using the desperation for hope as a vessel for him to move in people's lives and show them that they can find lasting joy, hope and peace in him."
In Seattle, the group performed a variety of tasks including trash pickup, gardening and graffiti cover-up in the Bell Town area, cleaning and speaking to the youth and church members at First Free Methodist.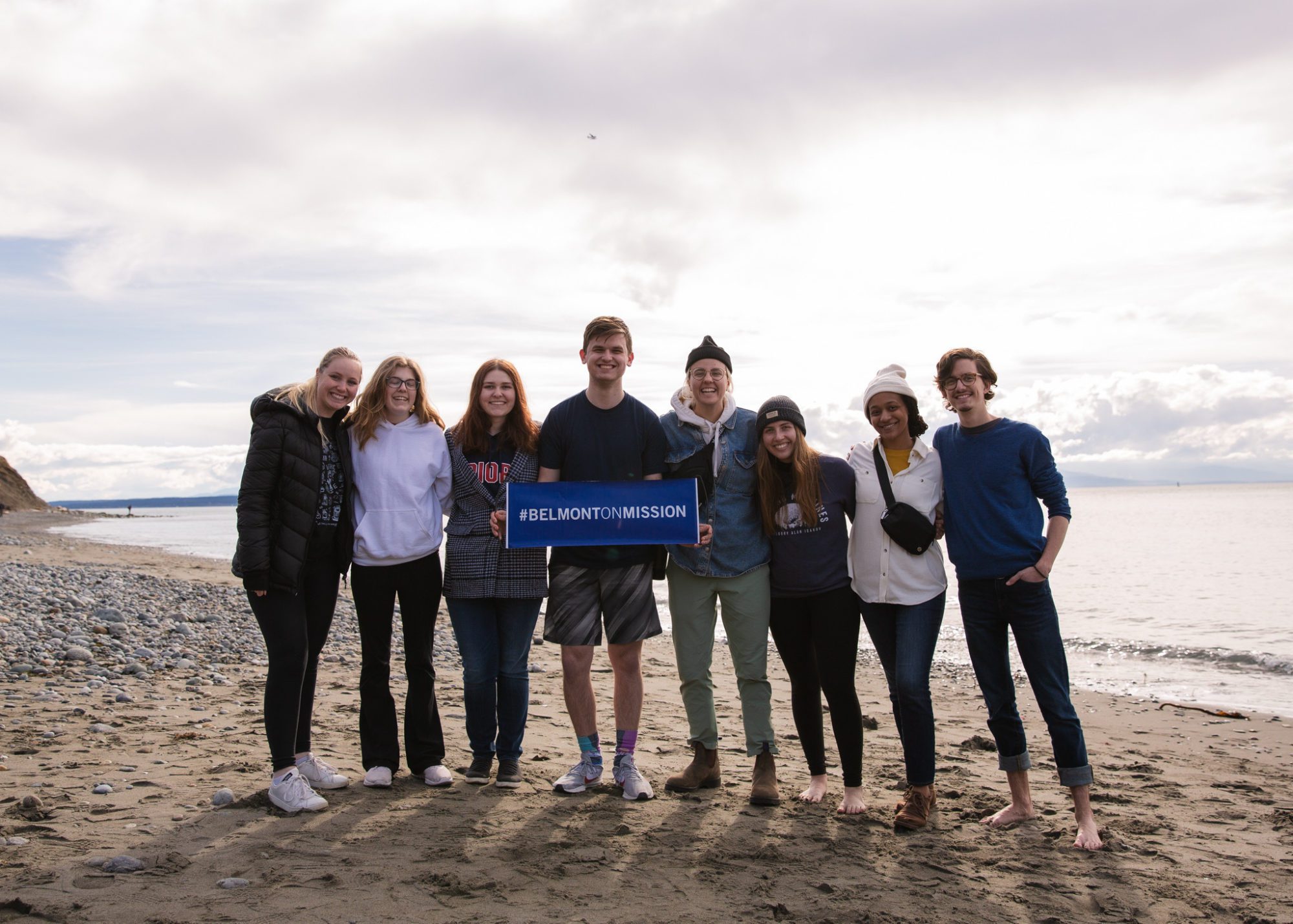 Guatemala
An interdisciplinary team of 36 Belmont students, faculty and clinicians worked with Belmont partner Kafes Guatemala in Antigua, Guatemala. Kafes Guatemala is a Guatemalan coffee company that created a program called CoffeeMed. The program focuses on ensuring coffee plantation workers have access to medical attention from medical teams who provide free services. Belmont's College of Health Sciences and Nursing has been involved with CoffeeMed for years. The team provided health screenings and patient teaching programs and helped distribute medications and vitamins to citizens in Antigua.
---
Mission trips at Belmont exist to inspire and equip students for faithful participation in God's mission in the world. The diverse range of immersive experiences offered over Spring Break allows travelers to grow in understanding the cares and concerns of communities in the U.S. and in Central American and Caribbean countries.