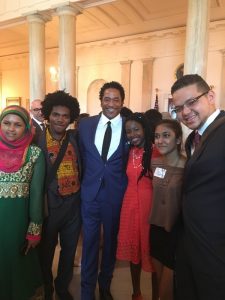 Freshman communication studies major and Nashville's first Youth Poet Laureate Lagnajita Mukhopadhyay was recently invited to the White House by First Lady Michelle Obama for a celebration of student poetry. The event took place on September 8 and was sponsored by the President's Committee on the Arts and the Humanities.
Well known as a youth writer in the Nashville community, Mukhopadhyay is involved with the literary and performing arts organization Southern Word and is the author of a book published in 2015 titled, "This Is Our War." The book contains a collection of Mukhopadhyay's original poems, which she was invited to read during an author event night at Parnassus Books in Green Hills in April. She has also performed original works at various Nashville events, including Mayor Megan Barry's inauguration last September.
Mukhopadhyay spoke about the honor being invited to such a special event was and the admiration she felt towards the people she has met. "Being invited to the White House to meet Michelle Obama and Congressman Jim Cooper and other industry greats like Q-Tip and Elizabeth Alexander was one of the greatest honors I could have hoped for," said Mukhopadhyay. "To add to this, the words of the National Student Poets and alums, and of course, the other Spoken Word Ambassadors, left me feeling so inspired. I am so grateful for the title of Southeast Regional Youth Poet Laureate and all of the opportunities it has and will present me with. I can't wait to share my words and ideas!"
Mukhopadhyay will be performing some of her poetry this Friday, September 23 in Belmont's Curb Café as part of an event called "The Night Speaks: A Night of Live Music and Poetry." The event will run from 10 p.m. to 2 a.m. and will feature a poetry set by Mukhopadhyay, a spoken word set featuring local top college poets, an open mic set for Belmont poets and a music set with the band Skeleton at the Feast. The program is also being sponsored by Southern Word.
For more coverage of Mukhopadhyay's trip, check out this Tennessean article. To learn more about Southern Word's programs and events, click here.