Dennis Cooke has gone through many different stages in his career, and some of them came as a surprise, even to him. Now the CEO of Ryder Systems, Inc. and President of Fleet Management Solutions, Cooke shared some personal tips for success with students. At a recent convocation event on Belmont University's campus that was sponsored by the Student Center for Public Trust, he reflected on his path to success and what got he there.
Cooke, the father of a current Belmont student and a recent alumna, has worked in various leadership positions for large companies that have allowed him to develop his own concept of his four Cs of leadership. But before he shared his four Cs with students, Cooke encouraged them to "take the complex and make it simple, you need to be inquisitive and ask why." He also stressed to students the importance of having mentors, especially informal ones like professors, that can help develop students through critical early years.
Cooke's four Cs of leadership are customer focus, collaboration, change and courage. He related each of these to different functions within his position at Ryder and how the company is evolving. "You have to embrace change," he said.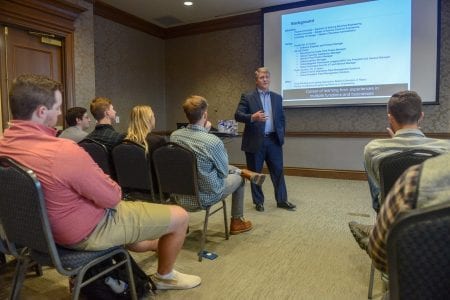 While all the elements of leadership are important to Cooke, he often went back to the theme of collaboration. He stressed several times to students the importance of being able to work together in a team well. "Business is a team sport," he said before explaining how he feels energized after working with functional teams.
After graduating from Purdue University for undergraduate, Cooke surprised himself when he went back to school for graduate degrees. Obtaining two masters from Purdue and the University of Chicago, Cooke never anticipated going that route. "I love to learn, and I didn't know I'd get a graduate degree," Cooke said.
Cooke closed his time with students by saying, "Belmont University is a launch pad, you've learned to learn. Now take the skills you've learned, and apply them. You have got to be willing to take risks and learn from it."