Former musical theatre major and dance minor Candace Quarrels has been traveling the country on the national tour of the Broadway classic "The Book of Mormon." On November 16, in the midst of the show's production at the Tennessee Performing Arts Center (TPAC), Quarrels took a break from her schedule to speak to students who sit exactly where she sat before embarking on her journey.
Originally from Memphis, Quarrels received this big break opportunity in the form of an open casting call in Nashville when she was a 19-year-old sophomore at Belmont. To her surprise, she was offered the role of one of the show's star characters, Nabulungi, on her last day of finals after several succeeding auditions. Quarrels claimed that her intent for auditioning had simply been to practice for future opportunities.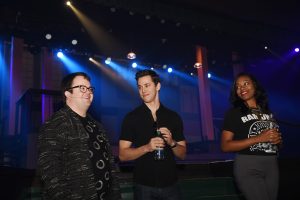 Now that she has been involved with "The Book of Mormon" for almost two years and has performed in the show more than 830 times, Quarrels was able to offer advice to aspiring musical theatre students on topics sincluding the auditioning process, touring and simply adjusting to professional life after college. She was joined by two of her cast mates, Gabe Gibbs (Elder Price) and Cody Jamison Strand (Elder Cunningham), to answer student questions.
Quarrels discussed the importance that self-confidence plays when an actor walks into an audition. "I think professionalism and maturity are key, especially on tour. That doesn't mean you can't be yourself, but be your best self," Quarrels said. "Half of auditioning is going into a room and being so intensely yourself that they like you." Gibbs mentioned how touring actors and singers must take care of themselves in the city climates they're traveling between. With different allergens in the air, the cast must keep their bodies and voices healthy to perform the show an average of eight times a week. "It's like you're a professional athlete and your muscle is your voice," Gibbs said. "You have to take care of it like an athlete takes care of his or her calves and thighs."
The three also answered questions regarding switching casting companies, adapting to different theatres each week while they are on tour and how to handle let-downs when an actor doesn't land the starring role. Quarrels ended by saying, "If you don't get an offer, it doesn't mean you're a bad artist. It just means it's not your 'right now.' It's not part of your plan."
During her time at Belmont, Quarrels studied under professors Jo Lynn Burks, Nancy Allen, David Shamburger and Emily Speck. In an interview with BroadwayWorld.com, Quarrels referenced them as "four of the kindest and most brilliant educators [she has] ever encountered." She also discussed her experience in Nashville and how it helped prepare her for her breakout role. "I think Belmont breeds performers who love what they do, and most importantly love each other, and that is so special and rare. We aren't encouraged to have jealousy or any kind of malice towards other performers, but to lift them up and applaud each other for our individual accomplishments. I think that is what sets us apart."
"The Book of Mormon" continues its Nashville performances at TPAC through Nov. 20 in Andrew Jackson Hall. Tickets for the show begin at $45 and can be bought here.
For further reading about Quarrels' role and career, read the Q&A she did with Nashville Lifestyles Magazine or visit her website.