Will teach graduate courses, direct new Belmont Center for Improvement of Educational Systems
Belmont announced today that Dr. Jesse Register, former superintendent of Metro Nashville Public Schools (MNPS), will be joining the University in a newly created position: Distinguished Professor of Educational Leadership. A well-known name among educators in Middle Tennessee and beyond, Register will be teaching graduate education courses while also spearheading the development of the new Belmont Center for Improvement of Educational Systems. The center will be a think-tank, a training institute site and an incubator to discover ways to restructure schools at the district level using collaborative, community-based approaches. Register is anticipated to officially join Belmont Oct. 1.
Belmont President Dr. Bob Fisher said, "For 125 years, this campus has been dedicated to education as a source of transformation for individuals and communities. We aspire for greatness not only in our education programs here at Belmont but also to see excellence fostered in school systems locally and beyond. Adding someone of Dr. Register's caliber to our faculty and to direct this new center will prove to be an incredible investment in tomorrow's education leaders as well, I believe, as a strong step toward finding resources to aid in improving school systems nationwide."
Register noted, "Belmont University, under the leadership of President Bob Fisher, has shown tremendous growth as one of the great universities in the South, and it is an honor to be invited to join the faculty. This offer is a great opportunity! I look forward to teaching in the leadership program and to being a member of the faculty that will strategically plan the growth of the education department at Belmont. I am also very excited to have the opportunity to develop a center to support the improvement of educational systems in our region. Building capacity for systemic reform in education is critical as we strive for continuous improvement in our state and country."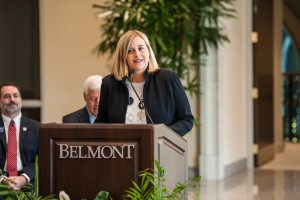 Nashville Mayor-Elect Megan Barry, who participated with Register in Leadership Nashville several years ago, joined today's press conference, noting, "Belmont is always at the forefront of putting forward new and innovative ideas for what Nashville needs. With the addition of Dr. Register, I think it's really exciting… I know what his commitment to education has been and will continue to be. He always wanted our children to have access to the best public schools."
Through his position as director of the Belmont Center for Improvement of Educational Systems, Register will work to address the issues that school systems face as they seek reform, utilizing collaborations among higher education, business/industry investment, faith/work initiatives and civic and legislative policy-makers. In addition, as a faculty member in the College of Liberal Arts and Social Sciences (CLASS), Register will be teaching Master of Education courses in Organizational Structures and Change.
Register served as superintendent of the Metro Nashville Public School district from 2009 until his retirement this past summer. Under his leadership, MNPS experienced administrative and educational improvements, including an increase in high school graduation rates and job satisfaction among teachers as well as a closing of the achievement gap among a diverse group of students. Dr. Register earned a Bachelor of Arts Degree in English and a Master of Education Degree from the University of North Carolina at Charlotte, and a Doctorate in Education Administration from Duke University. He was awarded an Advanced School Administrator's Certificate from the University of North Carolina at Chapel Hill, completed the Superintendent's Executive Program at the University of North Carolina and completed three years training in the Change Leadership Program at Harvard University.
CLASS Dean Dr. Bryce Sullivan said, "The questions we're asking in Nashville are being echoed by countless school systems across the country … 'How can we use all available resources to provide the best education for our children?' Dr. Register proved in his six-plus years leading Metro schools that he can provide innovative leadership in that arena, and I'm excited to see what visionary direction he brings to both Belmont's education programs and to broader school systems."
Education Department Chair Dr. Mark Hogan added, "Our partnerships with public, independent and charter school teachers and administrators strive to help families and the children of those families get the education that will enable them to flourish. This means changing the way we have traditionally approached teacher education. Dr. Register's commitment to this vision creates a great fit with our Education program."