Estate of Welch, wife Wendy creates endowed scholarship to support Belmont University School of Music students
Days before acclaimed solo musician and former Fleetwood Mac member Bob Welch would have turned 73, the Musicians Hall of Fame unveiled today a new exhibit honoring the late artist's career and impact, a legacy that will live on thanks to a newly created endowed scholarship in his and wife Wendy's name at Belmont University. Following Bob's death in 2012 and Wendy's passing in 2016, Mrs. Welch bequeathed her husband's memorabilia and music business interests, including royalty streams, to Belmont for the purpose of endowing a scholarship to benefit students in the University's renowned School of Music.
Belmont President Dr. Bob Fisher said, "It's a privilege to be a part of today's unveiling of an exhibit honoring such a musical genius, but I am even more grateful that Bob and Wendy Welch were committed to education and to ensuring future musicians benefitted from their success. The Robert L. and Wendy A. Welch Endowed Scholarship at Belmont University will inspire musical talent for generations to come."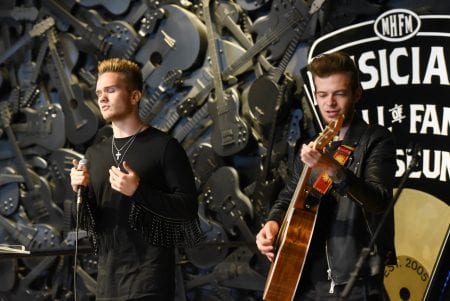 Welch released five solo albums, including his breakout 1977 album, "French Kiss," following his departure from Fleetwood Mac, with whom he recorded five albums from 1971-1974. His solo career produced 20 singles, including the hits "Hot Love, Cold World," "Ebony Eyes," "Precious Love" and the seminal song, "Sentimental Lady," which first appeared on the 1972 Fleetwood Mac album "Bare Trees" and included an extra verse. "Sentimental Lady" was performed live at today's event by two Belmont students: Nathan Travis, who is a sophomore commercial music major with a music business emphasis and is from Hilliard, Ohio, and Matt Davidson, who is a junior commercial music major with a music business emphasis and is from Shreveport, Louisiana.
Longtime Welch family friend Mike Lawson said, "Bob and Wendy treated me like a son. I've knew them for more than half of my life. Having inherited Bob's guitars and musical equipment, I very much wanted to honor Bob's rich musical legacy by loaning the Gibson ES-345 guitar, used on the last three of the five Fleetwood Mac albums he recorded with them, for this exhibit. I'm very grateful to the Musicians Hall of Fame founder and old friend Joe Chambers for making this happen for Bob. He has more than earned his place alongside the legends of music in this museum."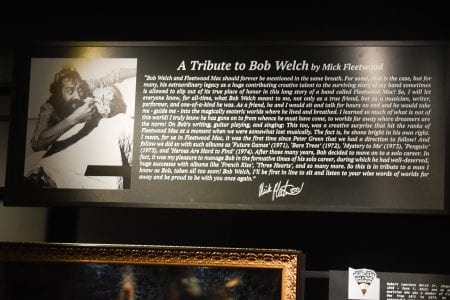 Former band mate and manager of his solo career Mick Fleetwood wrote a tribute for the Musicians Hall of Fame exhibit in honor of Bob Welch, noting that his musical talents were "…a creative surprise that hit the ranks of Fleetwood Mac at a moment when we were somewhat lost musically. The fact is, he shone bright in his own right. I mean, for us in Fleetwood Mac, it was the first time since Peter Green that we truly felt we had a direction to follow! And follow we did so with such albums as 'Future Games' (1971), 'Bare Trees' (1972), 'Mystery to Me' (1973), 'Penguin' (1973) and 'Heroes Are Hard to Find' (1974)… Bob Welch I'll be first in line to sit and listen to your wise words of worlds far away and be proud to be with you once again."
Fleetwood's tribute, along with one of Welch's guitars and other memorabilia, are currently on display at the Musician's Hall of Fame & Museum, located at 401 Gay Street in downtown Nashville.