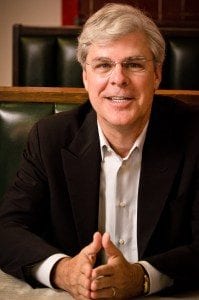 Entrepreneur in Residence Joe Calloway's book, "Magnetic: The Art of Attracting Business," was listed on Forbes' list, "Six Small Business Books To Enlighten Even the Savviest Entrepreneurs."
The list describes the book as covering word-of-mouth referrals specifically, but emphasizes that it also covers marketing and performance quality more broadly.
Calloway joined Belmont's Center for Entrepreneurship as the Executive in Residence for academic year 2015-16. He works directly with the Jack C. Massey College of Business's entrepreneurship students, including offering insights to student entrepreneurs in the University's Accelerator and Hatchery programs that are designed to get new businesses off the ground. He recently highlighted a student business, EVAmore.co, in his blog.
"Never stop improving. My guess is that almost all of the people who claim that they are always improving really aren't. They may be thinking about it, and I'll be they're talking about it, but they're probably not really doing it." – Joe Calloway, from Magnetic: The Art of Attracting Business