Belmont Associate Professor of Education Dr. Rachael Flynn-Hopper recently partnered with two Schools in Sumner County schools, Clyde Riggs Elementary and Portland High School, to develop "Dig It," a science, technology, engineering and math (STEM) day focused around plants. Teacher education candidates in Flynn-Hopper's Literacy I and II Methods courses assisted with developing lesson plans around literature to teach first graders in Jennifer Bates's classroom about how plants grow and provide food.
High school students in Brad Kirkham's class joined in the project by teaching the first graders (and Belmont students!) about the use of a greenhouse to grow plants and provided participants with supplies to grow tomatoes.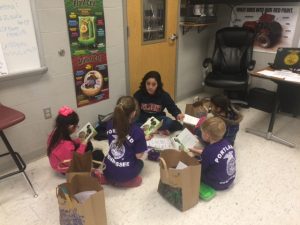 The partnership spanned the fall and spring semester and allowed Belmont's teacher candidates to apply learning from their methods courses through the development of their plans and the lessons they taught. This project also focused on collaboration in the community, service learning and teachers' work as advocates for schools, families and communities, Flynn-Hopper said. The Belmont candidates received training and materials from Tennessee Ag in the Classroom Representative Chris Fleming.
"The Belmont candidates were able to see how they can develop school and community gardens, teach children about agriculture and its impact on their lives, and design hands on collaborative lessons. These candidates also learned about grants and partnerships with local organizations and across schools as a way to increase prek-12 grade student learning. Clyde Riggs first graders learned about the parts & life cycle of plants, text features of nonfiction books and how to write a summary of facts. They also learned about Belmont and were able to see the importance of going to college to positively impact their own communities," Flynn-Hopper said. "Students at Portland High School were able to interact with college students and learn more about Belmont. They demonstrated their knowledge and skills by teaching about plants through hands-on activities."
Flynn-Hopper and Bates will present about the partnership at the National Ag in the Classroom Conference in Phoenix, AZ in June. While there, the duo will share on collaborations between universities and prek-12 schools and how partnerships can positively impact learning for all participants. They will also share their lesson plans, evidence-based strategies that can be incorporated across contact area through the use of quality children's literature and funding strategies as this project received grants from a variety of places including TN Ag in the Classroom, TN Farm Bureau, CHS and Tractor Supply Company.