Documents her experience through weekly blog, social media updates
Jami-Lyn Fehr, a fashion merchandising student in the O'More School of Design at Belmont University*, is spending the summer studying alongside AtelierSavas, a local bespoke leather jacket company owned by Savannah Yarborough. As a merchandising student, Fehr is spending her days documenting memorable moments through her blog, dabbling in graphic design, spending time with the atelier dog Scott, updating the company's Instagram and more.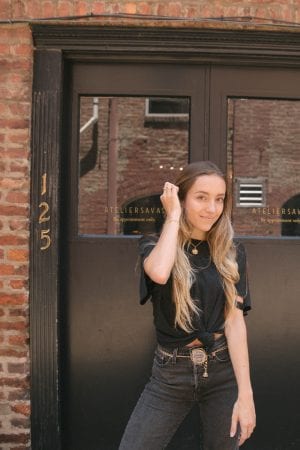 Throughout her time at O'More College, which will be transitioning to become the O'More School of Design at Belmont University this fall*, Fehr said she has been given countless opportunities to prepare for her career. "Every assignment is useful and has given me the chance to learn a skill I know I'll use in life," she said. "I definitely feel like this program gives me an upper hand, as I feel like my degree leaves me with much more than the ability to manage a boutique."
This summer, Fehr has been invited to provide input and create with free reign at AtelierSavas, something she says isn't always common with internships within the industry. "Just last week, I was able to conduct a photo shoot in the alley by the atelier featuring a sample jacket," she said. "Aside from this, I always get to create the content with my own flare based on Savannah's needs, so it's very fun to curate all the images with her aesthetic, which is different from my own."
After graduation in December, Fehr hopes to continue in her industry, working as a director of editorial or social media for a fashion brand. To further these goals, Fehr is planning to continue her schooling and earn her MBA with a marketing focus.
*Belmont's O'More School of Design has received preliminary approval from the University's regional accreditor (SACSCOC).*