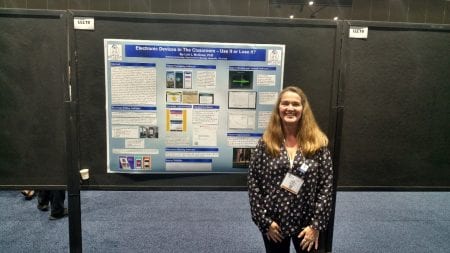 Each year, about 30,000 neuroscientists gather to discuss the recent discoveries, training and funding initiatives of their industry at the Annual Meeting of the Soceity for Neuroscience (SFN). This year, the conference was held from November 3-7 and Professor of Biology Dr. Lori McGrew and six Belmont undergraduate students, representing biology, neuroscience and psychology, presented posters and participated in a variety of meeting events.
The opening panel discussion, "Music and the Brain," included Jazz musician Pat Metheny, SFN President Dr. Richard Huganir and neurosurgeon Dr. Charles Limb. The effects of music on brain activity have become an increasingly popular area of research. Some important take-aways from this session were that brain activity is different when a musician is playing a piece of music as written in comparison to activity when a musician is improvising. Focusing on playing music as written requires the musician to engage in a high level of self-monitoring, inhibiting impulses to stray from the pre-determined notes. Improvisation, though, results in an increase of circuits that control self-expression and the inhibition of self-monitoring circuits. Neuroscientists are interested in understanding the control of these brain areas to help those who struggle with disorders involving those circuits including impulse control, vocal and motor tics and autism spectrum disorders.
Another lecture provided updated information on "Bidirectional Interactions between the Brain and Implantable Computers" given by Dr. Eberhard Fetz. The presentation discussed the benefits and problems that arise due to neural plasticity associated with implanted devices. One significant benefit is that people learn to better control prosthetics as they practice and fine-tune the neural circuits that interface with the machine. However, when the neural implants are downstream in the circuit, neural plasticity can cause a decrease in response. The dynamic nature of the circuits will be critical for continued advancement in implanted electronics.
One over-arching theme for much of the research presented this year focused on gender-dependent differences in research studies. This is due to the National Institutes of Health formal policy issued in 2016 which mandated that research data account for sex as a biology variable. Some examples presented include female rats showing different patterns in traditional tests of anxiety behavior when compared to male rats, female rats showing no increase in metabolism in response to caffeine administration (male rats do), and estrogen receptors interacting with oxytocin receptors during stress responses. Collectively, these studies demonstrate the importance of considering sex as a biological variable and suggest that some research paradigms may undergo revision based on the results.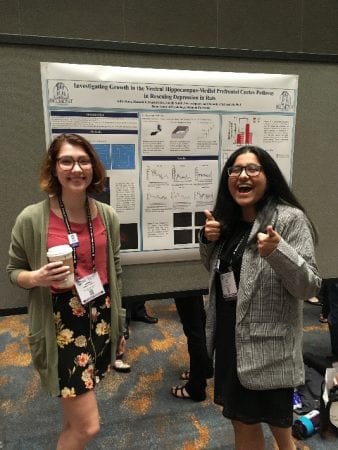 In addition to studies with humans and rodents, there were also many studies presented in which Danio rerio (zebrafish) served as the model organism. These studies were of particular interest to McGrew and her students since they utilize Danio rerio for their research. Some studies showed the interaction between excitatory and inhibitory circuits, helping to explain the duality of the fear response. Freezing is the result of the inhibitory circuit while erratic movements result from the activation of the excitatory circuit. Both can occur when the fish are frightened and the predominant effect seems to depend on the Danio's surroundings and other fish in the shoal. The group came away with a number of insights and ideas to investigate upon their return.
In addition to attending the conference, McGrew and the students presented their own posters. McGrew's presentation, "Electronics in the Classroom – Use It or Lose It?" was part of the conference's history and teaching theme. Her poster discussed a variety of applications for integrating phones and computers into class activities.
McGrew's students, Nardeen Fayik, Unique Ellis and Brent Hillier, along with Assistant Professor of Psychology Dr. Tim Schoenfeld's students, Hannah Branthwaite, Aditi Buch and Jonathan St. Louis, presented posters during the Faculty for Undergraduate Neuroscience poster session. Team McGrew described the effects of caffeine, apomorphine and blue light on anxiety levels in zebrafish.
Both groups had the opportunity to share research ideas with students and faculty from other institutions during the poster session and, as a result, further their understanding of their own projects in addition to their knowledge of neuroscience.