Belmont Biology Department faculty members Drs. Darlene Panvini, Nick Ragsdale, Chris Barton, John Niedzwiecki and Jennifer Thomas, along with 20 biology, environmental science, biochemistry & molecular biology and neuroscience majors, recently attended the 77th Annual Meeting of the Association of Southeastern Biologists in Concord, North Carolina.
The Association of Southeastern Biologists (ASB) is the largest scientific professional organization in the southeast and include approximately 1,400 members from 280 institutions. The organizations promotes biology through research and holds an annual meeting where faculty and students present findings.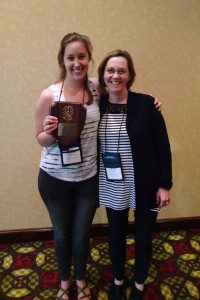 Senior Lindsay Millward won first place in the Tri Beta District II oral presentation session and will go to the National Tri-Beta Convention in May. Belmont was also recognized for having the most abstracts submitted.
The following students and faculty gave oral presentations at the conference:
Student Oral Presentations:
Vian Pulous, Christopher E. Barton, "Transcriptional Regulation of RGS2 by P53 in Colorectal Cancer Cells"
Sara Haney, A. Darlene Panvini, "Effects of Exotic Earthworms and Exotic Plants on Soil Invertebrate Abundance and Diversity"
Katlin Stodard, A. Darlene Panvini, "Decomposition of Acer saccharum and Lonicera maackii Leaf Litter in a First Order Stream"
Alexandria Jeffers, A. Darlene Panvini, "Water Quality and Macroinvertebrate Diversity in Closed-Canopied and Open-Canopied Sections of an Urban Stream in Nashville, TN"
Bryan R. Eoff, Nick Ragsdale, "Caenorhabditis elegans Response to Hyperglycemic and Hypoxic Conditions Post Infection with Staphylococcus aureus"
Zara Latif, Nick Ragsdale, "Utilization of Obese Worms to Investigate the Link between Parkinson's Disease and Obesity"
Miranda West, Nick Ragsdale, "Potential Protective Effects of Nicotine in C. elegans Treated with 6-OHDA"
Taeler Dahm, Christopher E. Barton, "p53 Mediated Regulation of CCNH in Response to Paclitaxel-Induced Mitotic Stress"
Jeff King, Christopher E. Barton, "Effect of p53 Status on S100A13 Expression in Response to Oxidative Stress"
Jasmin Mohn, Christopher E. Barton, "Investigation into the Regulation of CST6 by P53 Following Cellular Stress"
Nelly Grigorian, Christopher E. Barton, "A Study of the Role of P53 in the Regulation of MARCKS Expression"
Tessa Shupe, Lori L McGrew, "The Effects of Bupropion on the Working Memory of Anxious Danio Rerio"
Laura Horton, A. Darlene Panvini, "Abundance of Earthworms Relative to Leaf Litter Mass and Exotic Plant Coverage"
Ayda Porkar-Rezaeieh, A. Darlene Panvini, "Biomass and Diversity of Earthworms is Affected by Presence of Exotic Shrubs"
Walter Burn, A. Darlene Panvini, "Biodiversity of Macroinvertebrates in a First Order Spring-Fed Stream on the Belle Forest Cave Property, Bellevue Tennessee"
Danielle Aument, Nick Ragsdale, "Utilization of Alpha-Lipoic Acid as an Antioxidant in the Presence of 6-OHDA"
Dora Geving, Nick Ragsdale, "Implications of Parkinson's Disease in Nematodes Treated with the Insecticide Permethrin"
Chase Mackey, Nick Ragsdale, "Circadian Rhythm Dependence of Habituation in C. elegans"
Emily K. Deas, Robert T. Grammer, "The Effects of Glucose, Saccharine, Aspartame, and Sucralose on Longevity in Caenorhabditis elegans"
Lindsay Millward, A. Darlene Panvini, "Differences in leaf decomposition rates between invasive exotic Lonicera maackii and native Acer saccharum in a temperate deciduous forest"
Faculty Presentations:
Jennifer T. Thomas, "A Strategic and Multi-level Approach for Teaching Undergraduates How to Read Scientific Articles"
Christopher E. Barton, A. Darlene Panvini, "Promoting Student Well-Being in STEM through Community and Civic Engagement"
John H. Niedzwiecki, "Teaching the Value of Sustained Observation: A Multiweek Research Experience in Animal Behavior at the Zoo"
Christopher E. Barton, "A Model for Interprofessional Collaboration That Promotes Student Learning and Faculty Development in Undergraduate Anatomy and Physiology Course"