The Jack C. Massey College of Business at Belmont University recently launched the 2023 Executive Learning Networks (ELN). This year, ELN celebrates 34 years of providing a dynamic lineup of events, presentations and workshops that encourage learning among leaders in Nashville's business community through shared experiences and resources. University President Dr. Greg Jones and Board of Trustee Chair Milton Johnson commenced the series with a discussion on "How to Stay Grounded as a Leader" on March 7.
Each year, nationally recognized speakers present cutting-edge business ideas. Mindful Leadership Expert, author and former Lower East Side monk Pandit Dasa was a featured speaker in the spring semester and spoke on the subject of "Employee Wellness: THE Non-negotiable Driver for Fulfillment and Retention" on April 12.
"Managing our mind is probably the most important thing because it's running everything else," Dasa said. "Our mind is responsible for our emotions, how we react to things, how we perceive things. It's responsible for pretty much everything and yet, all throughout our life we never receive any training on how to manage it."
ELN members have the option to hear from a collection of high-caliber speakers virtually or in person. The ELN Video Library YouTube Resource holds an extensive video library from the past 12 years, and members have exclusive, unlimited access to over 2,200 assets including executive book summaries, webinars, podcasts and skill-based newsletters in the Soundview library.
In the last 34 years, ELN has grown from eight original members to a robust network of over 250 business executives across over 30 corporate memberships. Notable ELN speakers have included New York Times bestseller Malcolm Gladwell, author of "The 7 Habits of Highly Effective People" Steven Covey and former Vice President Al Gore. 
This year, Major General Charles Bolden Jr. who was the first African-American to serve as NASA administrator will speak at the annual Leadership Breakfast in December.  
Become an ELN member.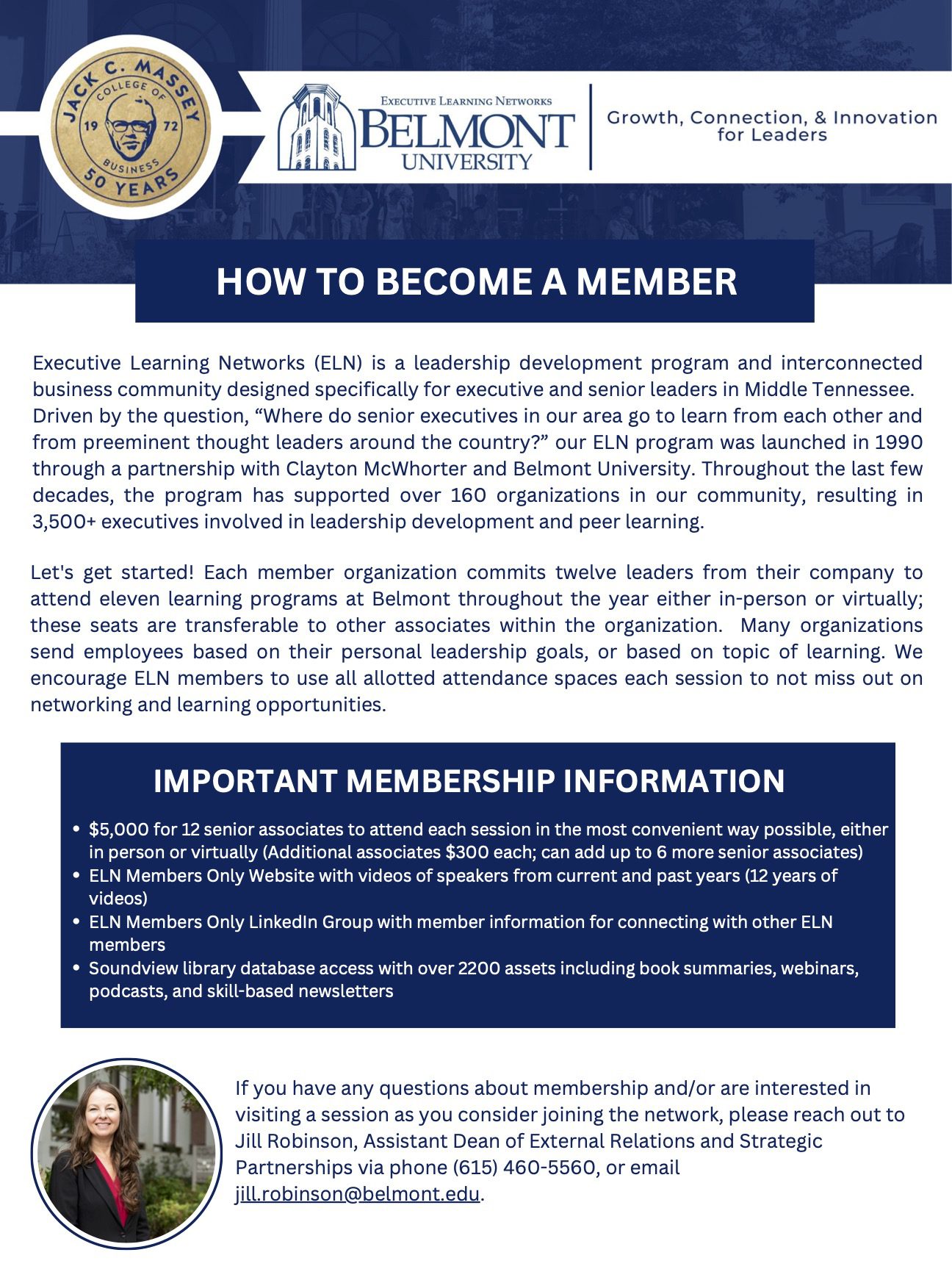 ---
View and download the 2023 ELN Series of Learning Schedule of Events