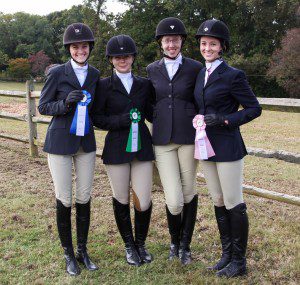 The Belmont Equestrian Club won six ribbons at the Maryville College competition. The Intercollegiate Horse Show Association riding competition was held on Oct. 18-19 and hosted by Maryville College at Penrose Farm. The four members who competed in the hunter/jumper discipline of equestrian sports rode against schools such as Vanderbilt University, University of Tennessee Knoxville, The University of the South, Middle Tennessee State University and Murray State University.
All of the riders representing Belmont placed in the flat and over fences classes. The flat classes require the riders to control their horses by performing various gaits asked by the judge while maintaining proper equitation form. Over fences classes require the riders to navigate their horse through a course over fences while maintaining proper equitation form. The horses are randomly drawn for each rider challenging their riding ability to control a horse they have never ridden.
"By randomly drawing horses to compete, you have to be prepared for anything. You don't get a chance to warm up or learn about your horse. It is the ultimate challenge as a rider. Some of the horses our riders rode were difficult and hard to handle, but the club's riders proved their ability to control and show a variety of horses," said Allison Harpole, president of the Belmont Equestrian Club.
The following ribbons were won by the Belmont Equestrian Club:
Mary Ritchea, 1st
Allison Harpole, 4th and 5th
Caitlyn Marsh, 5th
Meg Anderson, 4th and 6th