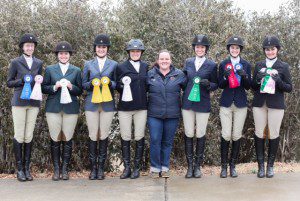 The Belmont Equestrian Club competed in the hunter/jumper discipline of horseback riding at the Intercollegiate Horse Show in Murfreesboro, Tenn., recently against schools such as Vanderbilt, University of Tennessee Knoxville, Middle Tennessee State University and Murray State. The eight Belmont competitors brought home a variety of ribbons including two first place finishes.
Junior Caitlyn Marsh won first place in Advanced Walk, Trot, Canter, and sophomore Mary Ritchea won first place in Novice Over Fences.
"I feel really accomplished that I actually saw every distance and hit the fences exactly how I wanted to, and only one of those was a little off. The horse I rode was 16 hands, had a large stride and was a little difficult to turn, but I feel like I did a good job with that," said Ritchea.
The Intercollegiate Horse Show Association competitions challenge the members to compete against other riders on many horses they have never ridden before. This requires the riders to use their skills to learn about their horse within the few minutes they have on them in the ring.
"I think getting to ride new horses is an amazing opportunity. Usually, riders ride one horse for a long period of time, but IHSA gives us a chance to ride horses we never would have been able to. I learn something new on every horse I ride so I am constantly learning new things to work on that I wouldn't have noticed if I was riding the same horse," said Courtney O'Connor.
Other ribbon winners included:
Aubrie Grimes, fourth place, Beginner Walk, Trot, Canter
Morgan Wilters, third place, Advanced Walk, Trot, Canter
Julie Anderson, fourth place, Novice Over Fences and fifth place, Novice Flat
Allison Harpole, sixth place, Advanced Walk, Trot, Canter
Courtney O'Connor, fifth place, Novice Flat and sixth, Novice Over Fences
The Equestrian Club is open to all Belmont students who express a passion for horses. In addition to competing at two competitions per semester, the club holds monthly meetings, attends weekly lessons at Hunters Court Stables and has aspirations to volunteer for SaddleUp therapeutic riding program. For further information on the Belmont Equestrian Club, contact belmontequestrian@gmail.com.