House Of, located on Belmont Blvd., features only products designed in Tennessee
New Nashville fashion boutique House Of opened its doors last Friday with a Spring Launch Party to celebrate the opening of the student-run retail concept. The store, located on Belmont Boulevard near the trendy 12 South shopping district, is the result of a unique partnership between Belmont University entrepreneurship students and the Nashville Fashion Alliance, and the outlet will provide the Nashville community with a curated group of local designers and brands. The one-of-a-kind shopping experience will be augmented with in-store events, trunk shows and networking events featuring creative talent from the region.
Elizabeth Gortmaker, director of Belmont's Center for Entrepreneurship, said, "We are thrilled to be working with such fantastic designers and connecting our entrepreneurial students with the Nashville fashion community. This retail store provides an opportunity for our entrepreneurial students to work directly with local creative entrepreneurs while supporting and developing the design ecosystem in Nashville. The students have been working on this launch since August and have big plans to continue growing their business."
Considering itself both a retail store and fashion lab, House Of will feature a rotating list of designers and brands offering collections of clothing, accessories, shoes, stationary and home goods that represent the best of emerging regional talent. Samples of items for sale can be found on the store's Instagram account, @HouseOfNashville, which already has more than 870 followers.
Nashville Fashion Alliance CEO Van Tucker added, "House Of is an important partnership for our brands and our Belmont entrepreneurship students as it provides each with a retail learning lab. Our emerging designers have the opportunity to gain insight into a retail environment with low risk and support from business-minded students. Our students have the opportunity to gain insight into the fashion business and be a resource for our designers. House Of will serve as a place where our designers can connect with their customers in a retail environment."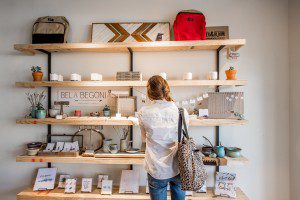 The uniqueness of this idea emerges from the "learning lab" partnership between college students, the Nashville Fashion Alliance and local designers. House Of also offers Belmont entrepreneurship students hands-on experience running every aspect of a store. Each student involved is assigned a specific role (communications, events, sales, merchandising, etc.).
Emily Gaus, a sophomore music business major, serves as the manager and merchandising manager for House Of, making her responsible for selecting the products that are sold in the store and working with the designers to curate the space. She presented the new student-run business to a room full of designers and fashion industry professionals during the recent Nashville Fashion Alliance Pitch Night. She said, "We are so lucky to be partnered with the Nashville Fashion Alliance, and that is where we started with picking our designers and our items. We had a pretty clear vision of what kind of style we wanted in the store, and we didn't want to limit ourselves to women's clothing and accessories, so we had a large variety to consider. From there it was a matter of curating the items to that taste, and always keeping in mind our audience of college students and neighborhood members. The designers made it very easy to pick quality, ethical and beautiful items to put together in our store."
Belmont's entrepreneurship program has been named as one of the Top 25 Undergraduate Entrepreneurship Programs in the country by The Princeton Review and has also been recognized as a National Model Undergraduate Program for Entrepreneurship Education by the United States Association for Small Business and Entrepreneurship (USASBE). In 2010, the program was featured as one of five schools to consider when studying entrepreneurship by Fortune magazine.
In addition to the prime retail space for student-run businesses on Belmont Boulevard, on campus Student Business Hatcheries provide an office environment containing basic resources and support to help students as they develop their own entrepreneurial ventures. Students are advised by faculty, staff and local entrepreneurs who are part of the Belmont Entrepreneur Network. Other resources available to students include free legal clinics, accounting clinics and practicing entrepreneur roundtables.
About The Nashville Fashion Alliance
The Nashville Fashion Alliance is a trade organization representing over 350 regional members. The mission of the NFA is to incubate and accelerate fashion companies throughout the entire eco-system through advocacy, economic & resource development and education. More information is available at www.nashvillefashionalliance.com.