Diversity and inclusion took on new urgency for Belmont students, faculty and staff as they heard Aerial Ellis discuss culture, communication, change and community Monday night. "Imagine a world where everyone's ideas are valued – where risks are taken to support high-potential, dynamic leaders as they realize their dreams and solve problems within their communities," she said.
She described diversity as the measure, and inclusion as the mechanism, for achieving such a world. She challenged the students to "not just ask 'why,' but instead ask 'why not?'" She said members of Generation Z (born 1996-2010) are well equipped to make positive changes in society. "You're savvy,  you're creative, you're pioneering, you're bold, you're collaborative, you're all these things."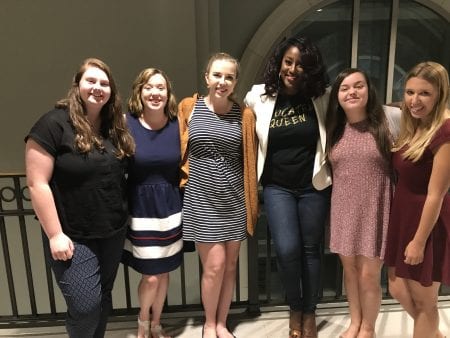 A public relations faculty member at Lipscomb University and the author of The Original Millennial: Lessons in Leadership for the Millennial Generation, Ellis defined diversity as "the broad range of similarities and differences including, but not limited to race, gender, age, religion, ethnicity, sexual orientation, disabilities, abilities and points of view that exist within our colleges, communities, companies, organizations, customers and suppliers." She defined inclusion as "providing equal opportunity to all people to fully engage themselves in creating an environment and a cultural attitude whereby everyone and every group fits, feels accepted, has value and can contribute to society."
Ellis emphasized the roles of passion and purpose, describing passion as something that can inspire, lead to and fuel someone's purpose. She said her passion at age 14 for starting her own manicure business led to her purpose of entrepreneurship, and social entrepreneurship "can solve problems by disrupting the system."
What can people do to help change society in a positive direction? "Check your bias," she said.  "What are you holding that allows you to foster stereotypes in your mind? Check your privileges. Check your access. What resources to you have? Check your influences. What can I say? And do? Finally, check your purpose, something that is innately and deeply connected to my core. Passion can lead me to purpose."
Ellis spoke to a standing-room-only crowd in the convocation cosponsored by Belmont Public Relations Student Society of America and the Belmont State of Mind Initiative for Diversity and Inclusion. Belmont PRSSA is one of more than 300 Chapters in the national student organization supported by the Public Relations Society of America, which offers professional development and  networking opportunities. The Belmont State of Mind Initiative for Diversity and Inclusion will sponsor Diversity Week on campus Oct. 1-5.