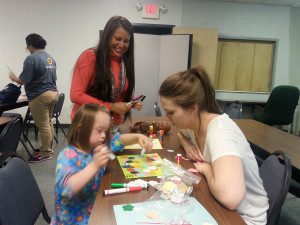 Belmont education students and Associate Professor of Education Sally Barton-Arwood concluded their Saturday morning Music Camp with the Down Syndrome Association of Middle Tennessee this month. Music, art, early childhood, elementary and middle school licensure students gathered with children with Down syndrome for a hands-on learning experience of building vocabulary. The Belmont students planned and ran the camp twice a semester in the Sport Science building.
"The children who return for each camp have something wonderful to look forward to. Families tell me how their children can't stop smiling and clapping on the way to our camp. Families also get a few hours to do something on their own," said Barton-Arwood. "I had a mother cry because she had not been able to spend time with her typically–developing daughter in five years since her son with autism and Down syndrome was born. In addition to totally changing their world view on individuals with disabilities, our students also gain experiences in communicating with parents and working through challenging behaviors of young children."
The program was started to meet two needs: to give music education and early childhood students meaningful practicum experience; and also  to provide weekend social time for children with Down syndrome.