Graduate and undergraduate students currently taking Belmont's Science Elementary Education and Science in Elementary School courses recently hosted a Family Science Night for family members of faculty and staff. The students worked in small groups to lead hands-on science activities and interactive demos designed for children in grades K-5.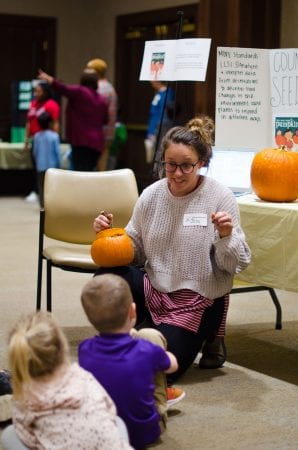 "Developing these activities has been an integral part of their course-work this fall," said Assistant Professor of Chemistry Education Dr. Danielle Garrett. "In-part, this event was designed to help future teachers develop and fine-tune their teaching skills.  Student-centered learning is truly the core of Belmont University, and hands-on opportunities and real-world engagement are at the heart of student-centered learning.  This event not only put Belmont students in an authentic student-centered learning environment, but it also challenged our students to develop and implement the same learning environment for children in the community."
More than 65 attendees participated in the event where the Janet Ayers Conference Room was transformed into a classroom with seven different science stations. Station themes included echolocation and bats, pumpkins and making predictions, comparing living and non-living things, the planets and their properties, Earth and planetary rotation, energy transformations and forces.
One attendee parent said, "This was a very fun and engaging event…Your students were entertaining, outgoing and showed excellent skills in explanation. They asked guiding questions to shy kids and got them involved in discovery."