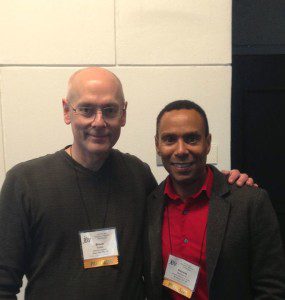 Assistant Professor of Music Bruce Dudley presented his research paper, "The Legacy of Jazz Pianist Phineas Newborn Jr. Revived: Transcriptions and Tutorials – An Online Resource" and conducted clinics with two high school jazz bands at the annual Jazz Education Network national conference in San Diego on Jan. 10.
During the presentation, Dudley unveiled note-for-note transcriptions  taken from recordings made by jazz pianist Phineas Newborn Jr. between 1956 and 1969.  The Estate of Phineas Newborn Jr. and his son, Phineas Newborn III, will be publishing these transcriptions, along with annotated performance analysis.
Dudley will soon create video tutorials that will demonstrate how to practice the transcriptions, as well as illustrate other ways to use Newborn's musical techniques of arrangement and improvisation for aspiring pianists. Find these and more here.