New Belmont University President Dr. L. Gregory Jones isn't easing into his new position. Rather, Dr. Jones—along with his wife, the Rev. Susan Pendleton Jones—is using his first day in office to make an immediate impact with campus and community leaders through a full day of meetings and conversations across the city, all introducing his theme for his inaugural year, "Let Hope Abound." Scheduled meetings for the day include in person visits with Tennessee Gov. Bill Lee, Nashville Mayor John Cooper, Metro Nashville Public Schools Director Adrienne Battle, CMA CEO Sarah Trahern, Organized Neighbors of Edgehill Director Brenda Morrow, Vanderbilt University Chancellor Dr. Daniel Diermeier, HCA Healthcare executives Sam Hazen, Mike Cuffe and Cathryn Rolfe, staff at nonprofit partner The Store and a number of local church and other faith leaders.
Jones began his first day in office with a stop at popular neighborhood coffeehouse Bongo Java before joining Belmont faculty and staff for a morning prayer service at the campus' iconic Bell Tower. The event set the tone for his administration and cast a compelling vision for the kind of University he wants Belmont to be.
Jones said, "Susan and I feel incredibly honored and grateful to be joining the Belmont and Nashville communities, and I'm looking forward to our conversations today and in the coming weeks as we find avenues to more deeply connect Belmont throughout our city and region. As we all begin to emerge from COVID-19, we recognize our nation has actually been facing multiple pandemics, including coronavirus, racial injustice, mental health struggles and economic uncertainties. With our Christian faith as our animating purpose, I believe Belmont University is well-positioned to bring hope to these times. We can do so by educating and forming students to become leaders of character and purpose, equipping them with an entrepreneurial mindset to tackle today's issues and tomorrow's challenges; by embracing Nashville and middle Tennessee, partnering with neighbors to meet needs and help our hometown and region thrive; by finding creative solutions to endemic problems that exacerbate brokenness, suffering and injustice. And by being a leader in reweaving the social fabric, we can work against those forces that fracture our society and instead choose to love all our neighbors as ourselves. Through these efforts, Belmont will be a place known to 'Let Hope Abound' among its students, staff and faculty, and everyone this University impacts."
Known for his entrepreneurial leadership and fundraising ability, Jones is focusing his initial efforts on strengthening his leadership team, pursuing development opportunities with Belmont's newly announced Thomas F. Frist, Jr. College of Medicine and fostering a culture of interdisciplinary collaboration at Belmont that will lead to innovative and transformative initiatives for the campus and community. Additional announcements on all of these efforts are expected in the days and months ahead.
Dr. Jones was unanimously recommended for the position by the Presidential Succession Committee, which consisted of representatives from Belmont's Board of Trustees, faculty, staff and alumni. The Succession Committee was guided in their selection by input from more than 775 campus stakeholders—students, faculty, staff, parents, alumni, Board and community members—who participated in a survey on the qualities and experience most needed by Belmont's next president.
To learn more about Dr. Jones and the "Let Hope Abound" inaugural theme, visit president.belmont.edu.
About Dr. L. Gregory Jones & Rev. Susan Pendleton Jones
Dr. Greg Jones served as the dean of Duke Divinity School from 1997-2010 and again from 2018 until last month. Between 2010 and 2018, he served in a variety of roles, including vice president and vice provost for global strategy at Duke University and also as provost and executive vice president of Baylor University. In addition, he has served in advisory and strategic roles with several foundations and educational institutions in the United States as well as in Armenia.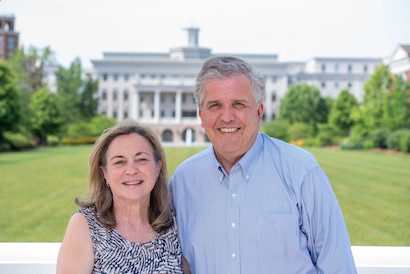 During his time at Duke Divinity, Jones strengthened the School's financial trajectory, diversified the faculty and staff and led a strategic planning process that garnered great enthusiasm for the school's future, all while setting new records for gifts to the Annual Fund and to the Divinity School overall. In addition, he currently serves as a senior fellow at Leadership Education, which he founded, and senior fellow at the Fuqua-Coach K Center on Leadership and Ethics, both at Duke University. He is passionate about re-shaping cultures within and across organizations and has coined the term "traditioned innovation" to capture how he re-frames complex challenges to seize significant opportunities.
A gifted speaker, Jones is the author or editor of 19 books, including the recently released Navigating the Future: Traditioned Innovation for Wilder Seas (with Andrew P. Hogue) which outlines his perspective on traditioned innovation as "a habit of being and living that cultivates a certain kind of moral imagination shaped by storytelling and expressed in creative, transformational action." Other works include Christian Social Innovation, the co-authored Forgiving as We've Been Forgiven: Community Practices for Making Peace (with Celestin Musekura), the co-authored Resurrecting Excellence (with Kevin R. Armstrong), and the widely acclaimed Embodying Forgiveness. An ordained United Methodist minister, he has published more than 200 articles in a variety of publications.
Dr. Jones received his bachelor's in speech communication and a masters of public administration from the University of Denver, and his masters of divinity and Ph.D. in theology from Duke University. He is also the recipient of honorary doctorates from Lycoming College (Williamsport, PA) and North Carolina Wesleyan. He currently serves on the boards of the John Templeton Foundation, the McDonald Agape Foundation, the Lilly Family School of Philanthropy at Indiana University and the India Collective.
The Rev. Dr. Susan Pendleton Jones is the new First Lady of Belmont University. Prior to moving to Nashville, she served for several years as associate dean of ministerial formation at Duke Divinity School. She also has served as director of field education. Her teaching responsibilities at Duke have included courses on leadership, forgiveness and reconciliation, and the pastor's vocation, team-taught with her husband. She and Greg have co-authored essays and articles as well as two books in the "Living the Good Life Together" series. Additionally, she was the project coordinator for Duke Divinity School's award-winning 2005 building addition, which includes Goodson Chapel and the Westbrook Building.
Susan has been involved in leadership and board roles with a variety of community organizations and foundations, and cares deeply about children and families as well as the importance of innovative approaches to challenging problems. A retired elder in the Western North Carolina (WNC) Annual Conference of the United Methodist Church, Susan has served pastorates in North Carolina and Maryland and as the former United Methodist campus minister at Duke.
Susan and Greg are the parents of Nate (and Amy), Ben (and Allison) and Sarah (and Joey Fala), and the grandparents of Clara Susan Jones, Audrey Katherine Jones, and Sophie Elizabeth Jones.